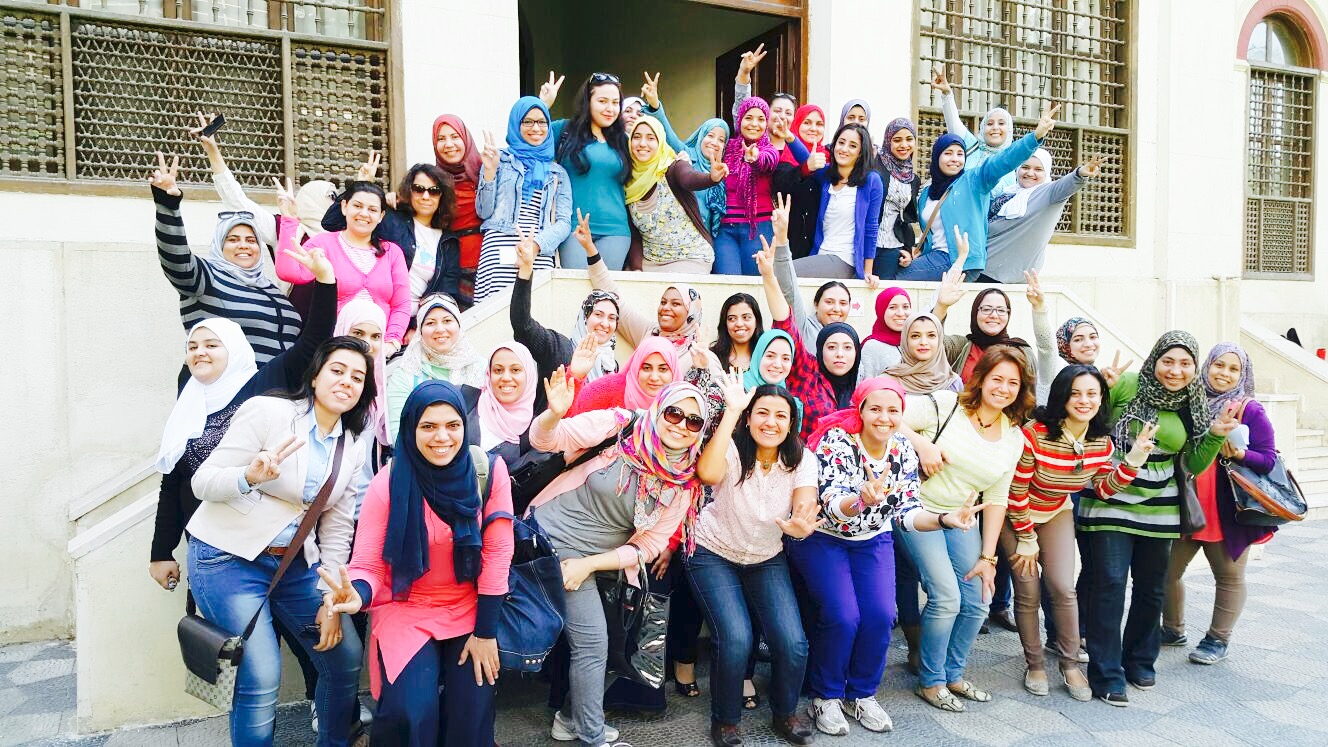 Testimonials
Testimonials by USAID & Official representatives
USAID and U.S. Visitors' Testimonials
…On behalf of USAID, thank you for arranging for select scholars to meet with USAID/W number 3 person on the food chain, Assistant Administrator Eric Postel. He deeply enjoyed meeting the students and he will be in a better position to advocate the investment of millions of dollars into scholarships recipients. Below is my draft write up that will go into cable somewhere in WDC. Stay well…

Arturo Acosta, Deputy Director and Team Leader of Higher Education, Office of Education and Health, USAID
…Thank you so much for your note regarding my visit with the HEI undergrads in STEM at AUC. While I thought that the presentation went well, I very much enjoyed the individual conversations with, and questions and comments from students…and I have already heard from some of them! I trust that this is just part of a concerted dialogue between our two countries regarding research and scholarly collaborations in higher education and especially in STEM…

Professor Dr. Morrobel-Sossa, Provost and Senior Vice President, Lehman College
…On behalf of USAID, thank you for helping make Dr. Schneeman's visit to Cairo a success and for showcasing your work and students…

Arturo Acosta, Deputy Director and Team Leader of Higher Education, Office of Education and Health, USAID
…He deeply enjoyed meeting the students and he will be in a better position to advocate the investment of millions of dollars into scholarships recipients…

Arturo Acosta, Deputy Director and Team Leader of Higher Education, Office of Education and Health, USAID/Egypt
…the lunch with the breadth of scholarship recipients was rich in that each representative articulated how the program creates differentiation in the system; and your direct inputs helped her better understand and answer the question "why scholarships?" The short answer being that this country cannot run on a high school education alone.

Arturo Acosta, Deputy Director and Team Leader of Higher Education, Office of Education and Health, USAID/Egypt
Visiting with the young women who will receive the STEP Scholarships was a highlight of my visit to Egypt…Thanks so much for making it possible for me to meet these determined young women. They are certainly the future of Egypt…I am having dinner tonight at the National Arboretum with a few hundred people. I will certainly let them know about some of the future Egyptian leaders I met last week in Cairo.

Christi Vilsak, Sr. Advisor for International Education, USAID – June 4, 2015
…Visiting with the young women who will receive STEP scholarships was a highlight of my visit to Egypt. Hearing Dalia say about her mother, "She knows it's my future… I will achieve her dreams before my dreams" was memorable. I do believe she will work in the ministry of transportation some day and possibly become the Minister of Transportation. I can just see Yara reminding her grandmother that it was she who wanted her to apply for the scholarship. I can see her sitting next to her father trying to find Kalamazoo, Michigan on the map. I'm quite sure that Eman will accomplish her goal that in 15 years she'll have established her first development company to provide technology institutions for children to improve their technology skills.

Thanks so much for making it possible for me to meet these determined young women. They are certainly the future of Egypt. Thanks for providing the opportunities for them to study in the U.S. and for pairing them with a good university.

Christi Vilsak, Sr. Advisor for International Education, USAID.
…I am envious that you will have the opportunity to get to know them and to shepherd them through their master's degrees. Thanks for agreeing to do this good work for USAID. Please keep in touch. Let us know when the young women come to DC so we can say hello and hear their stories as they unfold or you can send us some updates occasionally. I will do my best to share these stories widely. I will start tonight. I am having dinner out under the stars at the National Arboretum with a few hundred people. I will certainly let them know about some of the future Egyptian leaders I met last week in Cairo.

Samah Eid, USAID COR
…thank you once again for a wonderful lunch with the MBA and STEM scholars and for pulling the rabbit out of the hat and getting the women 1 1/2 hour earlier than planned … you made it work and saved the day once again.

USAID Education Office
…We at the General Directorate of the Secondary Education [at the Ministry of Education] greatly appreciate the efforts and hard work you exerted as well as the accuracy and transparency you followed throughout the selection phases of the students….. We confirm our help and support for the benefit of [Egypt] and our students.

Ministry of Education
Scholars' Testimonials
…I am writing to thank you and IIE Egypt for supporting us to be here in America. I am grateful to the whole team…

Fatima Adam, HEI MBA Cohort 2 scholar
…I do not know what to do but to thank you. You have been a great help…

Amal Ali, HEI MBA Cohort 2 scholar
…Thanks very much for the photos and everything … we really enjoyed the event and appreciate all the effort exerted by IIE Egypt…

Soha Hassan, HEI MBA Cohort 2 scholar
…I am writing to express my sincere gratitude to you for helping me get acceptance from Willamette University possible. I was thrilled to learn of my selection for this honor and I am deeply appreciative of your support…

Nora El Guindi, HEI MBA Cohort 2 scholar
…I'm so grateful to get to know a beautiful and helpful lady like you. Thanks for all your time and effort during this year. I hope I will make you proud of me isa…

Nada Ali Fawzi, HEI STEM Cohort 2 scholar
…I want to thank you for your care, kindness and support. Also, I wanna say that I am so sorry if -because of me- you had to deal with such load. Please thank Mr. Joseph and everyone….

Heba Abdelaziz, HEI MBA Cohort 1 scholar
…Please accept my sincere and heartfelt thanks for being such a great leader to all of us. My skills and talent would have gone with me to the grave, if I hadn't won this scholarship because of your support and commitment…

Maha Hannou, HEI MBA Cohort 1 scholar
…I am truly grateful for your attention, and I do appreciate your effort as well as all IIE team efforts. Your fidelity to get the best out of us and the best results in your work is Cristal clear. I would like to thank you, and please your efforts and IIE team efforts are highly appreciated. This really will influence my whole life and future. Also even if I was unfortunate and had no other options, I have huge gratitude for your sincere attention…

Sarah Faramawy, HEI MBA Cohort 2 scholar
…I am grateful to USAID, IIE, you, Mrs. Germeen for everything you did for us since the start of the program till we are finally admitted at universities…

Rahma Ahmed, HEI STEM Cohort 2 scholar
…Finally, I would like to thank you for all what you have done with us, you were not only our leader but you are our sister and friend. Thanks a lot for your motivation and advice in hard times not only in our academic life but in our personal life. You gave us the feeling that we are a small family. You are one of the diamonds that I owe in this year…

Sherly Fadel, HEI STEM Cohort 2 scholar
…Really I would like to thank you for your support and your time. I do appreciate the hard work you do for each single one of us. From my personal experience with you, I feel that I am lucky to have you to be our program managers as you were there for me in many hard situations as a program manager and as a good friend as well. Also I know how much the load of work you perform to facilitate any and every step in our scholarship. So the one who should be sorry is me as I could not have the opportunity to thank you face to face. Once more, thank you for being friendly and professionally…

Dina Dawood, HEI MBA cohort 2 scholar wrote to her IIE-Cairo Program Officer – March 15, 2016
…I would like to express my special thanks for all your efforts. I thank you for your invaluable asset…

Fatima Adam, HEI MBA cohort 2 scholar wrote on February 22, 2016
…I would like to thank you for your great effort and support during the last months…

Shimaa Badawy, HEI MBA cohort 2 scholar wrote on March 12, 2016
…I would like to thank you for all the efforts that you and your team made to us. You all dedicated time and efforts to reach such a stage. I am happy to be under a supervision of such a professional organization such as IIE.

HEI Scholar
…Whatever words will be said, it will never express my feelings and gratefulness to your good self… Simply you are the reason for making me a better person… For making me what I'm today… Thanks from the bottom of my heart.

HEI Scholar
…I am not sure how to best thank you for all the efforts and hard work you exerted since the start of this program… You made me particularly happy today… I researched Webster University and it is a much better university than the other one. Indeed I am very very grateful…

HEI Scholar
…I feel grateful and thankful for offering me a chance to enhance my academic, professional and even personal perspectives and goals. This scholarship opportunity is an opportunity to invest to promote multiculturalism and cooperation between nations. Thanks a lot and I wish you empower more Egyptian women with such great opportunities to empower others eventually…

HEI Scholar
… Now, I realize the importance of the bridge program…

HEI Scholar
Consultant Testimonial
…Thank you so much for your email and the trust you gave me in training your MBA and STEM candidates. To me it was a great and educational experience to work with you, your lovely team and the students…

Reham El Hawary, Founder and Director, Persona International