Resources to help you stand out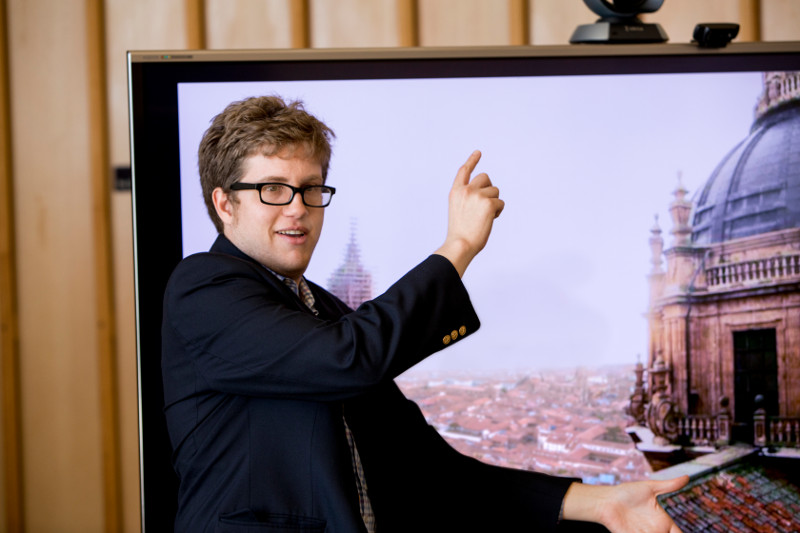 We hope that you are able to use your time abroad or program experience as a linchpin for future career and academic endeavors. Below are resources to help you stand out in a career search, as well as job listings, professional development opportunities, and more.
The IIE Alumni Webinar & Speaker Series
Corporate Careers – How to Market Your International Expertise
This webinar explores careers in the for-profit sector and how your international experiences can make you a highly competitive candidate. Featuring a panel discussion with Peter Thompson, IIE's Executive Vice President, Cathy Martine, President, AT&T National Business, and alumni in the consulting, finance, and engineering industries, the webinar will provide insights from corporate leaders and industry experts and offer advice for candidates at various levels.
Career & Interview Strategy Webinar
This webinar video explores how to articulate transferable skills gained from international exchange in a career search (e.g. in interviews, cover letters, CVs, and résumés). Moderated by Dr. Allan E. Goodman, President and CEO of the Institute of International Education (IIE), the webinar features a discussion with Susan Riehl, an experienced recruiter and Human Resources professional at IIE and insights from a Fulbright and Gilman alumna.
Careers with the United Nations, U.S. Department of State, & International NGOs Webinar
This webinar explores careers with the United Nations, the U.S. Department of State, and international NGOs and features speakers such as John Ericson, Chief of the Outreach at the UN; Usha Pitts, Diplomat in Residence for the U.S. Department of State; Alberto Cerda Silva, Program Officer at the Ford Foundation; and Julie Baer, Research Officer at IIE.
Launching Your Social Enterprise or Tech Start-Up
The webinar explores business development, early stage finance, grants & competitions for seed funding, securing capital from investors, and advancing entrepreneurship in transitioning economies. Hear advice from expert panelists and successful alumni on how to launch and advance a social enterprise or start-up.
Professional Development & Career Search Resources
IIE Alumni Re-Entry and Career Development Packet (PDF) – a comprehensive publication that offers guided evaluations, interview tips, and resume and cover letter examples to help program returnees articulate skills acquired abroad in a career search.
A Student Guide to Study Abroad (PDF) – serves as a great tool to help students transition back to the U.S. and showcase the student's global growth.
Extending Your Exchange Experience – Alumni Coordinator at the U.S. Department of State, Megan Huber, Diplomat in Residence for the U.S. Department of State's Foreign Service, John C. Roberts, and Gilman Scholarship alumnus discuss career opportunities for alumni to pursue internationally-focused careers.
Global Professional Search (GPS) – IIE has partnered with Global Professional Search (GPS), a FREE online job-matching service for candidates with "global" competencies—overseas experience, foreign language, and industry expertise. GPS's online wizard captures candidate experience, translates it into a professional profile, and uses an algorithm to match candidates with employers.
Background Resources for Making the Case for Study Abroad (PDF) – Team Generation Study Abroad is interested in how study abroad alumni can demonstrate the critical skills they gained abroad to employers. Take a look at these background resources to continue learning on this topic!
Opportunity Highlights
Global Experience & Training: The Global Experience and Training (GET) initiative offers unique experiential learning opportunities for students and young professionals from around the world at top colleges and universities in the United States. GET opportunities are offered in a wide variety of Science, Technology, Engineering, and Mathematics (STEM) fields as well as other specialty areas. GET aims to bridge the gap between academics and the rapidly changing job market with hands-on industry training. The program also helps students improve English skills and gain a better understanding of the U.S. professional culture.
Global Academic Fellow at Amal Academy (looking for Pakistani alumni): Amal Academy, an education startup launched by a team of Acumen and Stanford MBA / MA alumni, has an opening for a Global Academic Fellow. They are looking for someone who has studied abroad and has international work experience (3+ years) as well as experience working in Pakistan and/or other emerging markets.
Multiple Program Officer Positions at Open Society Foundations: The Open Society Foundations has posted multiple program officer positions in different departments in their London and New York offices.
Connect with "Diplomats in Residence" to learn about careers with the U.S. Department of State
The UN Young Professional Program: A Pathway to a UN Career
IIE is Hiring!
View full list of openings at the IIE Career Center
Intensive Language Programs in the United States
Visit the online database to find opportunities
Professional Opportunities for Scholars