Afghanistan Response Information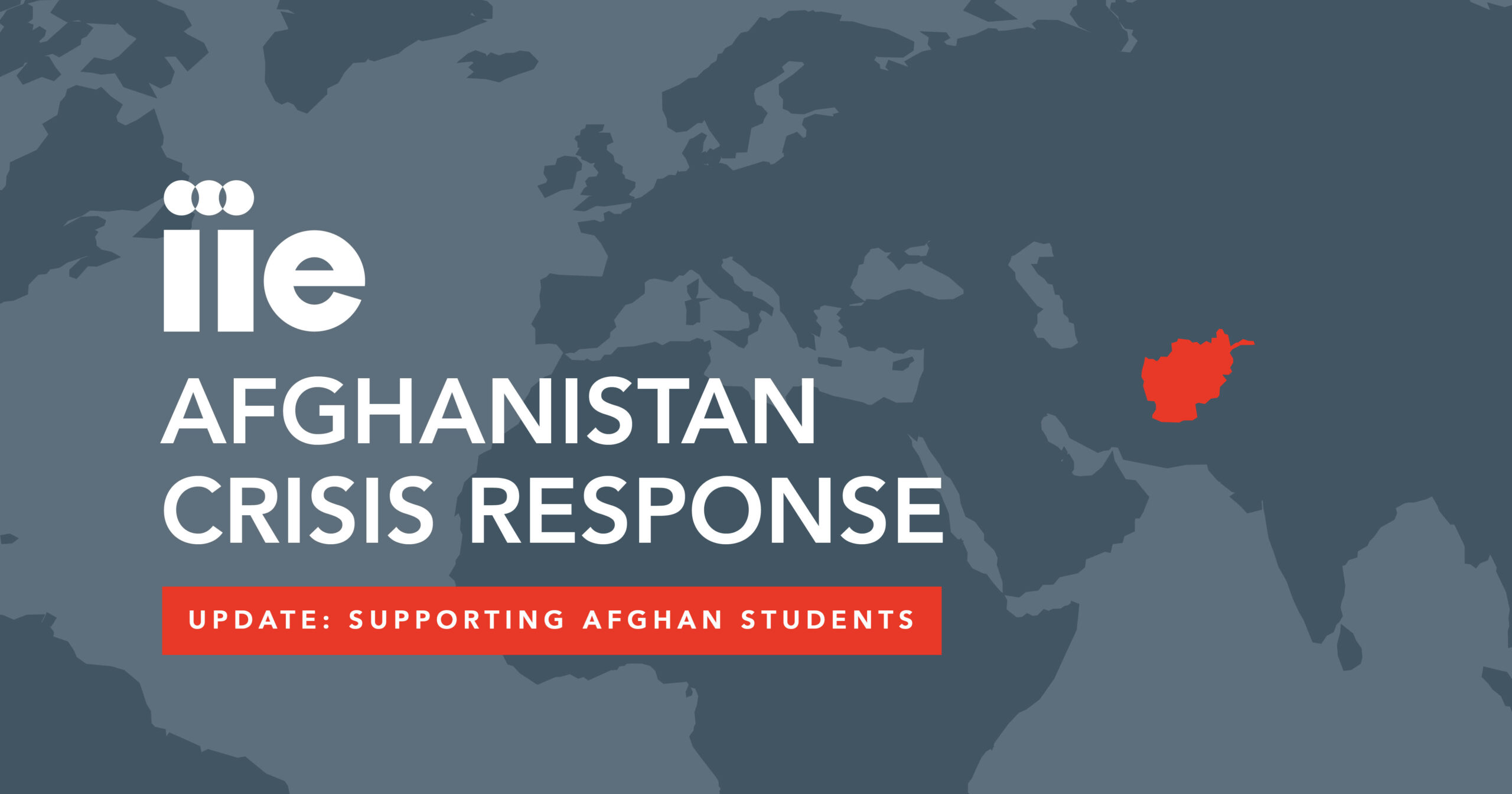 Afghanistan is rapidly becoming the world's most pressing humanitarian emergency. Afghan university age students, scholars, and artists face threats to their work, ability to continue their education, and their lives. At IIE, we are doing everything we can to assist:
Recent Updates
On September 14, 2021, IIE announced plans to award ten former American University of Afghanistan (AUAF) students with scholarships to safely reconnect to their studies at a college campus abroad.
IIE first affirmed its commitment to using our 100+ years of experience to do everything we can to assist Afghanistan's Higher Ed students, scholars, and artists who are under threat.
Support
Your gift to IIE's Afghanistan Crisis Response allows us to provide assistance for Afghan scholars, college students, and artists where it's needed most.
Host an Afghan Scholar
IIE's Scholar Rescue Fund (IIE-SRF) is the only global program that arranges and funds fellowships for threatened and displaced scholars at partnering higher education institutions worldwide. Take the first step in hosting an IIE-SRF fellow from Afghanistan by completing the IIE-SRF Alliance expression of interest form.
Refer an Afghan Scholar
Refer to IIE-SRF qualified Afghan scholars who are facing threats to their lives or careers (review our eligibility criteria and application instructions here).
Afghan Artists
The Artist Protection Fund (IIE-APF) was established in 2015 to formalize IIE's unwavering commitment to protecting the lives, voices, and ideas of threatened artists and to establish a sustainable mechanism for doing so. IIE-APF is uniquely positioned to protect threatened artists by placing them at welcoming institutions in safe countries for a full year, during which they can continue their work and plan for their futures.
IIE Refugee EdTech Program
IIE's Refugee EdTech Program provides refugee students around the world the opportunity to pursue advanced education online, without the need to travel to a university campus. Scholarship recipients will pursue a MicroMasters® certificate offered through edX, the online education platform built by Harvard and MIT. These certificate programs typically represent one quarter of a full Master's program. The certificate can help some students who wish to continue their education gain admission to graduate programs, and a growing number of companies – from IBM to Booz Allen to Ford – view it favorably as a hiring credential.
The IIE Refugee EdTech program application is currently open and can be accessed here.
Afghan Students in the U.S.
IIE's Emergency Student Fund (ESF) provides grants to international college students in the U.S. when natural disasters, war, or other crises threaten their education. Many face financial pressure to return home or drop out because their family circumstances have changed dramatically. IIE helps these students cover essential needs, including basic living expenses.
At this time, the Emergency Student Fund is not accepting nominations; this page will be updated when a new round opens.
Any inquiries regarding IIE's efforts for Afghan students may be asked through AFGStudentResponse@iie.org.