Georgia Institute of Technology
WeTech 2017 Juniper U.S. Internship and Scholarship Recipient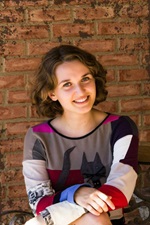 My name is Lara, and I am a fourth-year Electrical Engineering major at Georgia Tech. I spent the summer of 2017 working as a Systems Engineering Intern at the Juniper Networks headquarters in Sunnyvale, California. Working with another intern, I developed an iOS application that could automatically launch a user-defined configuration of virtual Juniper machines, which will help Systems Engineers in the field showcase Juniper's solutions to clients.
I had never taken a networking course, so I didn't know what to expect from my internship at Juniper. I was fascinated to learn that Juniper's solutions comprise a sort of "postal service" for the internet; transmitting data rapidly and securely from one location to another. I have friends and family all over the world, so it was amazing to be part of a company that enables global communication.
Naturally, there was a massive learning curve at the beginning of my internship; I spent days learning the basics of networking and automation so that I could understand the goal of my project. This seemed like an arduous task, until I realized that many of the Systems Engineers working around me were very happy to help me if I needed advice or clarification on something. I was so surprised when people who were not even working on my team would come up to me and ask if I needed help with anything. I loved working in such a friendly, collaborative environment!
It is obvious that Juniper — and especially the Systems Engineering department — invests heavily into its interns. From the very beginning, the directors of the internship program stressed that we would be doing meaningful projects that would have a significant impact on the company. This motivated me to do the best possible job on my project so that the engineers could use it in the field without a single problem. As Juniper CEO Rami Rahim recounted to the interns in a story about his ASIC engineering days, "When someone found a bug in my product, it was almost emotionally painful!" Rami encouraged us to work hard on our projects so that we could be proud of our work and make a meaningful difference in the company.
As a Systems Engineering Intern, I had the special privilege of attending the 2017 SE Americas Tech Summit, where I got to travel to Orlando, Florida to learn about the cutting-edge work the SE department is doing. There was even an Intern Showcase, where we presented our work to Juniper employees and partners. I was amazed by how many engineers were excited about my project and wanted to download it and use it in their work. Out of all of the perks of working at Juniper — including the generous salary, the intern social events, and the opportunity to explore California — knowing that I made somebody's job easier was definitely the most rewarding.
Finally, it was an interesting time to be a woman interning in Silicon Valley. Many people I met learned that I got my internship through the WeTech scholarship for women in STEM. Most were incredibly supportive, but I often found myself answering the question: "Well, why isn't there a scholarship for men in STEM?" I didn't mind this question; it gave me a chance to have a conversation about the history of women in STEM fields and the benefits of working in a diverse environment. What did bother me, though, was when people insinuated that such "diversity hires" are in some way under-qualified to work at the company. These mumblings about women in STEM all culminated near the end of my internship, when a Google employee wrote a memo claiming that outreach programs like the one that brought me to Juniper create an "ideological echo chamber," and that there were "biological reasons" justifying the gender gap in STEM.
With this in mind, I have the following advice for future WeTech Scholarship recipients: Do not be ashamed of your scholarship; wear it proudly like a medal around your neck. The fact that we are having this societal debate justifies your presence in Silicon Valley, because we need more women in tech to dispel the harmful and scientifically unfounded notion that there are biological reasons behind the gender gap. Additionally, every time somebody implies that you are not as qualified as other interns, let that be additional motivation to do the best possible job you can, work through every challenge, and create a project that becomes extremely valuable for the company. Once this is done, nobody will be able to deny your skills, talent, and the unique perspective you bring to the table.
I would like to thank IIE and Juniper Networks for this invaluable scholarship and internship opportunity, as well as the dozens of Juniper employees who have become my new role models and made my experience at Juniper so memorable.
---
The WeTech Juniper Internship and Scholarship for University and Women in STEM has given Lara the opportunities to gain practical work experience and exposure to a leading multinational technology through her internship at Juniper Networks. The program provided her with both the flexibility to grow and the support and resources needed to ensure her success. In her time on the Sunnyvale campus, she met with Juniper executives and worked closely with their supervisors to create a customized learning experience throughout their programs. WeTech and Juniper Networks are dedicated to building a global pipeline of women in STEM, and we are excited to see Lara further her career.