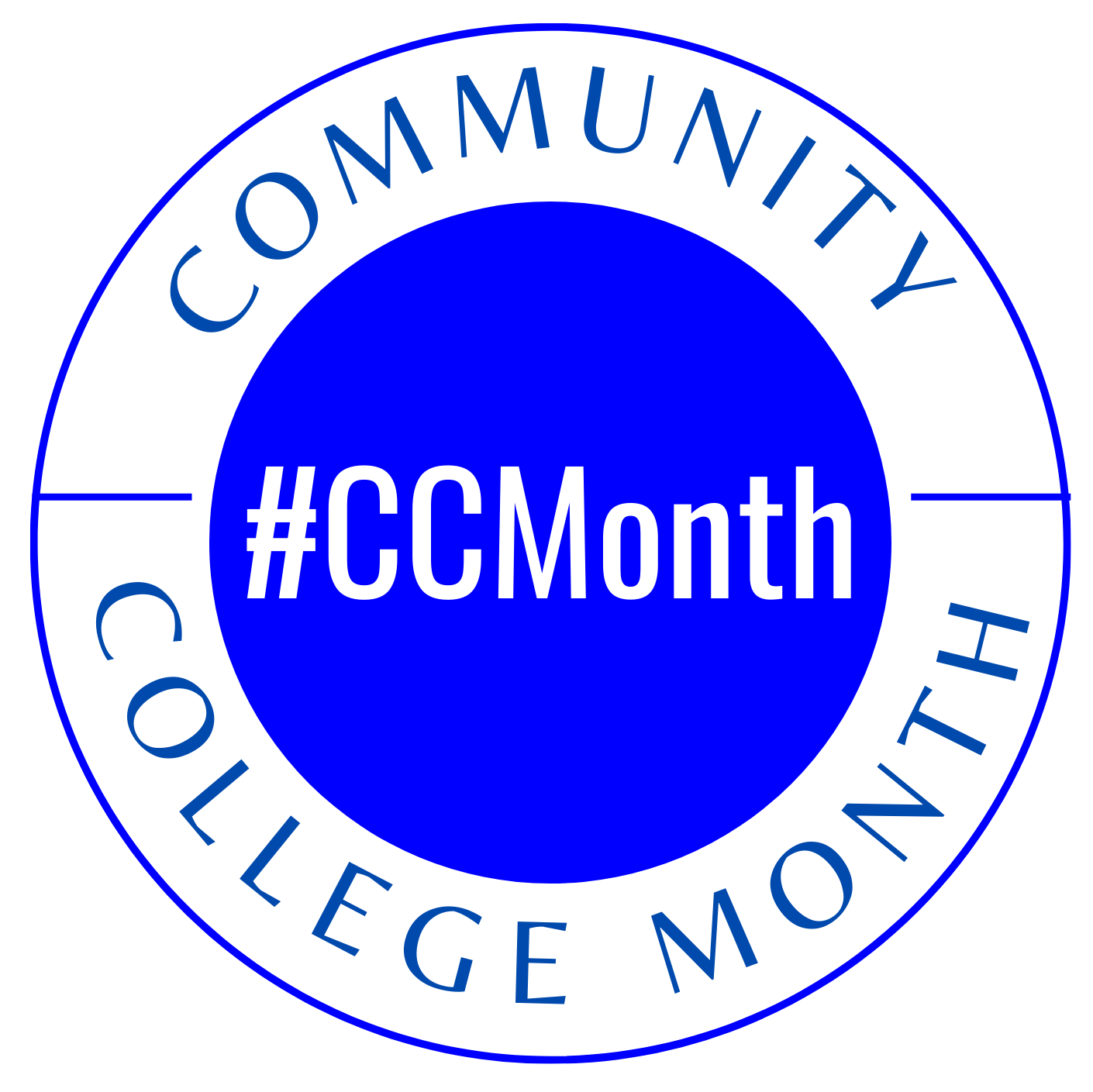 April is Community College Month and IIE is pleased to celebrate and share how community colleges, our partners and members, have served as vital creators and contributors of international education. Community colleges have a long-standing commitment to serving their community's interests. This commitment extends through providing local, national, and international opportunities for learning among diverse student populations that contribute to communities throughout the United States.
In our over 100 years of operation, IIE has been partnering with community colleges by providing resources and professional support for fostering internationalization. IIE continues to engage with community colleges through our research, by facilitating best practices for international engagement, through support of expanded study abroad opportunities, and by helping international students in need.
International Educational Exchange Research & Mobility at Community Colleges
Each year, IIE participates in community discussions and conducts special analysis focused on international educational exchange at community colleges. Through the Open Doors research, Research Roundtables, and the forthcoming NAFSA Community College Interest Group Meeting, we work to further the dialogue on how to overcome challenges in support of international education and highlight the unique profile of international student mobility at community colleges.
The most recent Open Doors publication reported that 60,170 international students attended community colleges, which represented approximately 7 percent of all international students in the United States in 2020/21. Studying at a U.S. community college holds global appeal, with international students traveling from 196 places of origin across the world to pursue educational opportunities at U.S. community colleges. Additionally, 2,286 U.S. community college students studied abroad in 2019/20. While many community college students studied abroad in popular European destinations similar to the national profile, a higher proportion of students pursued study abroad opportunities to the Latin American and Caribbean region. Costa Rica, Belize, Mexico, and Jamaica all ranked among the ten most popular study abroad destinations for students from community colleges.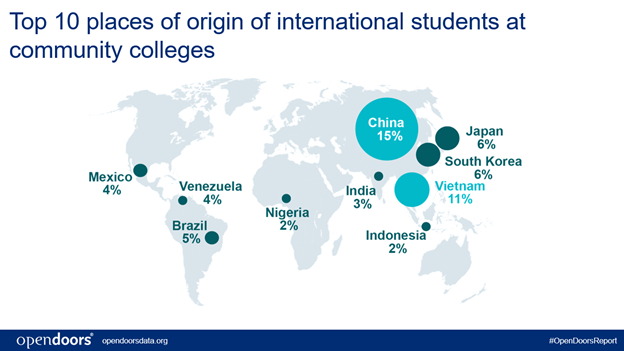 Facilitating Promising International Education Practices at Community Colleges
The IIENetwork, IIE's global association of higher education institutions and organizations, continues to support and highlight examples of how our community college members have contributed to the ongoing innovation and evolution of international education. Furthermore, our work with community colleges has frequently showcased their robust support to some of the most demographically and socioeconomically diverse students to have critical and transformative learning experiences.
Community college representatives and advocates at IIENetwork member institutions have contributed their thought leadership in IIE's publications, including the IIENetworker magazine and IIE's Opening Minds blog, sharing knowledge, experience, and best practices to inform and serve the greater International Education field. In more recent publications, authors have raised such topics as launching global learning with high school partnerships and fostering access to quality global learning in "SUNY JCC Puts the World Within Reach" (IIENetworker, Spring 2019), and the evolving International Education profession through the lens of community college professionals in "Shaping the Future of International Education at Community Colleges Through Entrepreneurial Leadership Styles" (IIE Blog, 2021).
In addition, community colleges' efforts to expand access and global learning opportunities have been recognized through various awards and grants from IIE. The IIE Andrew Heiskell Awards for Innovation in International Education honor the most outstanding initiatives being conducted in international higher education by IIENetwork members. Since 2001, more than 20 institutions have been recognized for their programs for internationalizing and/or expanding study abroad at community colleges.
Increasing Access to Study Abroad at Community Colleges
In a collective pursuit to increase and diversify U.S. students studying abroad, IIE worked with hundreds of Commitment Partner institutions and organizations through the Generation Study Abroad (GSA) initiative from 2014-2019. Several community colleges committed to ambitious goals and strategic efforts, with six receiving IIE's Seal of Excellence for having reached their GSA goals.
In 2021, IIE launched the IIE American Passport Project to promote access to and equity in study abroad by making grants to U.S. colleges and universities in the IIENetwork so they can help students who are eligible for Pell grants obtain a U.S. passport. In two years, eight community colleges have been selected to receive funding supporting up to 200 students to receive their U.S. passport and plan for studying abroad.
Supporting International Students in Need at Community Colleges
To assist international students in the U.S. who have been affected by natural disasters, war, or other crises in their home countries that threatens their education, IIE offers grants and works with U.S. colleges and universities to identify these students in need of financial support. Through the IIE Emergency Student Fund (ESF), we have worked with nearly 50 community colleges to offer more than $330,000 to nearly 140 students.
Additional Resources for Community Colleges
IIE and our partners offer various resources for community colleges and students, including:
Informative & Accessible Data
Open Doors provides dedicated tables about both international students studying in the United States and U.S. students studying abroad from community colleges:
International Students
U.S. Study Abroad:
In addition to our online resources, IIE has contributed data and insights in recent publications focused on international exchange at community colleges:
Study Abroad Opportunities for Community College Students and Strategies for Global Learning provides innovative insights into international study and education abroad through community colleges, while discussing the value of adding study abroad programs to two-year institutions. This publication examines community colleges' contributions in a local society, study abroad opportunities, peacebuilding, international education, and risk management. Designed for administrative professionals, community college leaders, educators, academicians, and researchers, this 2020 CIES Study Abroad and International Students SIG "Best Book in Higher Education" second-place winner covers topics centered on study abroad programs at diverse community colleges.
International Students at US Community Colleges: Opportunities, Challenges, and Successes documents the experiences of international students and recent international initiatives at US community colleges to better understand how to support and nurture students' potential. Offering a range of case studies, empirical and conceptual chapters, the collection showcases the unique curricula and diverse opportunities for career development that colleges can offer international students.
International Professional Development, Teaching Resources, & Curriculum Development
The U.S. Department of State's Fulbright Program engages and supports all types of institutions across the U.S., which is outlined in "Three Ways Fulbright Helps to Internationalize Your Campus" (IIENetworker, Fall 2021).
Impactful Student Scholarship Programs
IIE administers scholarship programs that enable students at community colleges to pursue international education experiences through financial support and benefit from the skills gained through career development. Programs such as the U.S. Department of State's Gilman International Scholarship Program, the National Security Education Program's Boren Scholarship, and the Freeman-ASIA Awards, are prominent examples that have impacted the individual grantees and their respective communities.