Georgia Institute of Technology
WeTech 2017 Juniper U.S. Internship and Scholarship Recipient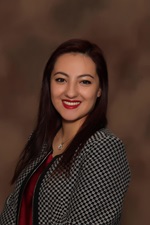 Working at Juniper Networks this past summer was a life-changing experience. I learned more than I had ever thought possible, worked with the most amazing people I have ever worked with, and used my spare time to give back to the community that provided me with so many invaluable experiences.
My internship at Juniper Networks strengthened and instilled my values as a hard-working leader, and provided me with real-world experiences to shape my entire future as a computer scientist. Growing up, I never had an opportunity to learn as much about computer science as I did at Juniper. The term computer science was unheard-of in the small southern town I grew up in, and my openly-expressed desire to learn more about computer science, especially as a female, only resulted in a scoff and words of disheartening advice to give up on my "unrealistic goals." However, I persevered and am now attending the prestigious Georgia Institute of Technology in one of the nation's best computer science programs, and am so grateful for the opportunity I was given to work this past summer at Juniper and receive a life-changing scholarship.
I worked on the back-end of Juniper's Policy Enforcer security software, developing an Amazon Web Services connector to serve as the integration between Policy Enforcer and the AWS cloud. It was exactly the type of work I was hoping to experience this past summer, and I am so thankful to have worked on this project on an amazing team and have met so many amazing people I know I will maintain close relationships with for years to come. I traveled with my peers on the weekends, worked hard with my team throughout each week, and spent time giving back to Juniper and the entire surrounding community in thanks for the amazing opportunity I was given. I helped establish and work a service event held at Juniper, where we hosted underprivileged elementary students in Juniper's Aspiration Dome to teach them about the internet. It was such an incredible and rewarding experience to see the faces of the children light up when we played tech-related games and had one-on-one discussions with them about the significance on the internet. The children loved having Juniper interns teach and interact with them. The experience was so rewarding to me because I had the opportunity to teach young students STEM concepts in hopes to inspire them to know that no matter what background a person may come from, seemingly unattainable goals and successes can be achieved if one is passionate and determined to achieve one's goals.
Coming home with new knowledge and experiences, I feel better prepared to continue in my pursuit of my future, and feel confident that STEM is the field for me. The scholarship money provided to me will aid me in finishing my computer degree from Georgia Tech, as I now feel confident that although I am a minority in a STEM field, my background does not pre-determine my level of future success.
---
The WeTech Juniper Internship and Scholarship for University and Women in STEM has given Adriana the opportunities to gain practical work experience and exposure to a leading multinational technology through her internship at Juniper Networks. The program provided her with both the flexibility to grow and the support and resources needed to ensure her success. In her time on the Sunnyvale campus, she met with Juniper executives and worked closely with their supervisors to create a customized learning experience throughout their programs. WeTech and Juniper Networks are dedicated to building a global pipeline of women in STEM, and we are excited to see Adriana further her career.