Georgia Institute of Technology
WeTech 2017 Juniper U.S. Internship and Scholarship Recipient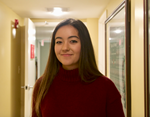 When I first found out that I was selected as a WeTech Scholarship and Internship Recipient, I was overjoyed but anxious. I knew Juniper Networks was an extremely honorable company and did not want to disappoint my team nor WeTech; however, I now feel confident that my experience this summer not only taught me more than I could have ever anticipated but that I created a product that was much more than a summer intern project.
I worked on a component management tool and presented it at the final showcase for the company. I learned so much about web development from planning the initial database schema, writing the full-stack code for the application, working with a client to ensure his/her needs, weekly meetings and writing reports with my team, and deploying the finished product. I worked on a team of intelligent and driven programmers who helped answer any of my questions while still challenging me to do my best. At the end of the summer, my team came to support me at the intern showcase and I received a lot of positive feedback from the rest of the company as well on my presentations. I feel confident that my final project will be continued to be used and will be a beneficial tool for the company for many years to come.
As of now, the scholarship will go towards textbooks, room and board, and school fees for the 2 upcoming semesters. If any money remains, I plan on using it to travel to various hackathons and women in tech conferences (I have already booked my ticket for Grace Hopper!) to hopefully empower more women to join the tech industry. After my experiences with Juniper Networks and WeTech, I believe more than ever that women deserve not only a seat at the table of the Tech Industry, we deserve to be at the head of it.
---
The WeTech Juniper Internship and Scholarship for University and Women in STEM has given Sara the opportunities to gain practical work experience and exposure to a leading multinational technology through her internship at Juniper Networks. The program provided her with both the flexibility to grow and the support and resources needed to ensure her success. In her time on the Sunnyvale campus, she met with Juniper executives and worked closely with their supervisors to create a customized learning experience throughout their programs. WeTech and Juniper Networks are dedicated to building a global pipeline of women in STEM, and we are excited to see Sara further her career.