Santander US
Opening Minds Corporate Leadership Award
The IIE Corporate Leadership Award recognizes corporations whose business activities promote international understanding and improve the lives of people in the communities in which they work.

IIE is honoring Banco Santander Group for its outstanding commitment to higher education. Since 1996, the Santander Universities program has invested more than $1.3 billion around the world, contributing more to higher education than any other corporation. Through Santander Universities, the bank supports higher education internationalization and employability efforts that promote access to education, increase college readiness, foster university innovation and entrepreneurship, and advance global workforce development. 2016 marked Santander Universities' 20th anniversary of collaboration with colleges, universities, and research centers. Each year, it supports over 1,200 philanthropic agreements, 22,000 scholarships, and 4,100 university projects to promote academics, research, study abroad, internship and job placement in 21 countries.
IIE is grateful to Santander for its support of IIE's Generation Study Abroad Travel Grants, which will benefit high-achieving low-income and minority college students. Study abroad opens the door to transformative experiences that inform not only students' education, but also their careers and personal growth as global citizens. Students who study abroad have better grades, experience less attrition, and graduate from college at higher rates than those who do not. Santander's philanthropic grant to IIE has provided the lead funding to launch the program. Through Santander's investment, disadvantaged U.S. students will have the opportunity to study abroad, better positioning them to advance their academic and professional goals – an opportunity that otherwise may not have been available to them.
Accepted by Scott Powell, Chief Executive Officer of Santander US and Santander Consumer USA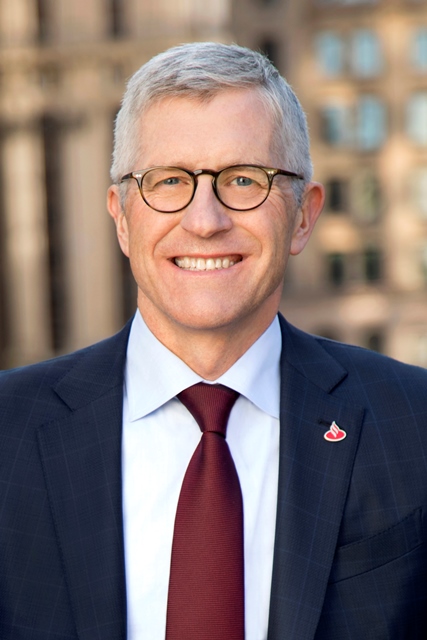 Scott Powell
Chief Executive Officer of Santander US and Santander Consumer USA
Scott Powell is the Chief Executive Officer of Santander US and Santander Consumer USA (SC). He is responsible for managing Santander's business units in the United States. He previously served as CEO of Santander Bank.
Scott has more than three decades of experience in retail banking, risk management and consumer and auto lending. He became CEO of Santander US in March of 2015 and was appointed CEO of Santander Consumer in August of 2017. Prior to joining Santander, he held a variety of senior positions at JPMorgan Chase & Co., including Head of Banking and Consumer Lending Operations, CEO of Consumer Banking and Retail Investments, Head of Consumer Lending, Head of Chase Auto Finance, and Chief Risk Officer, Consumer. He also spent 14 years at Citigroup in a variety of senior risk management roles.
Scott holds a BA from the University of Minnesota and an MBA from the University of Maryland. He currently serves on the Board of Directors of The Financial Services Roundtable and the supervisory board of The Clearing House. He is also a Trustee of Phipps Houses, the oldest and largest not-for-profit developer, owner, and manager of affordable housing in New York City, and a member of the International Board of The End Fund, whose mission is to control and eliminate the most prevalent neglected diseases among the world's poorest and most vulnerable people.