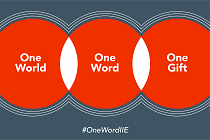 Support IIE this Giving Tuesday with #OneWordIIE
We're raising money to send more U.S. students study abroad!
If you could describe your study abroad experience in just one word, what would it be?
Please join us for IIE's Giving Tuesday campaign One World. One Word. One Gift. We need your help to promote the benefits of studying abroad and to raise money for IIE's Generation Study Abroad Travel Grants which help talented, but financially disadvantaged American college students to study, intern or volunteer in a country other than their own.
Here are some ways you can get involved:
Share with your friends! Follow @IIEGlobal on social media, and share our #OneWordIIE #GivingTuesday posts on Facebook, Twitter, and Instagram.
Post your unselfie! Print this sign and write down the one word that describes your study abroad experience (or why a global education is important to you). Snap a photo of yourself holding the sign — or ask a friend to snap a photo of you. Share your photo on social media using #OneWordIIE and encourage your friends to donate at www.iie.org/donatenow
Give! Make a gift to IIE's Generation Study Abroad Travel Grants using the form below.
Please consider giving and sharing your voice in support of IIE this Giving Tuesday! We're accepting gifts of any size now through Giving Tuesday on November 27th.