Ikoni Ogaji
Rescued Nigerian Scholar Makes Medicine Available to the Developing World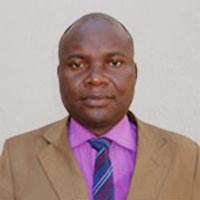 Dr. Ikoni Ogaji of Nigeria is working to make medicine more affordable and accessible across the developing world. His research on grewia gum (a local and natural alternative to more expensive, synthetic agents that keep medications stable for long-term preservation) focuses on reducing the cost of certain crucial medicines and putting them within reach of thousands of people in need.
This work nearly came to a halt a few years ago, when Dr. Ogaji was in profound danger. A prominent professor of pharmacology at the University of Jos, Dr. Ogaji found himself threatened by violent clashes that erupted between Muslim and Christian ethnic groups in Jos. A fellowship from IIE's Scholar Rescue Fund enabled Dr. Ogaji to continue his research in safety at Kenyatta University in Nairobi, Kenya.
"The IIE-SRF fellowship brought relief to my family and myself from the trauma and tension of the crisis that engulfed our city. We had respite and were able to put our lives together again," he says.
Eventually, Dr. Ogaji was able to return to Jos, where he was promoted to lead the University of Jos' Department of Pharmaceutics and Pharmaceutical Technology. Today, he is a leading authority on drug production and on expanding access to safe and affordable medicine. He teaches hundreds of students each semester, enhancing the future of pharmaceutical research.


IIE-SRF has helped rescue 737 scholars from 58 countries. When we save a scholar, we save more than a life. We save knowledge, research, and future insights. We save connections to the students, current and future, who will build on the scholar's work. We save potential solutions to the world's most pressing problems.
But we can't do it without your help. The need is great. Your gift will save scholars like Dr. Ogaji. Please support IIE-SRF today.
Every time we #SaveAScholar, we illuminate the future. Join us.