About
About the IFP Alumni Tracking Study
The IFP Alumni Tracking Study explored the personal pathways and career trajectories of alumni of the Ford Foundation International Fellowships Program (IFP). Launched in 2013, the study was by the Research, Evaluation and Learning (REL) Team at the Institute of International Education (IIE). The study was unprecedented in its size and scope and provided useful lessons for IIE and the field at large on how to carry out impact studies over an extended period, and how to design fellowships for maximum impact. By studying the link between higher education and social justice, and the effect that higher education can have on marginalized populations and leadership, we are better able to understand the long-term impact of international higher education scholarship programs that seek to promote social change.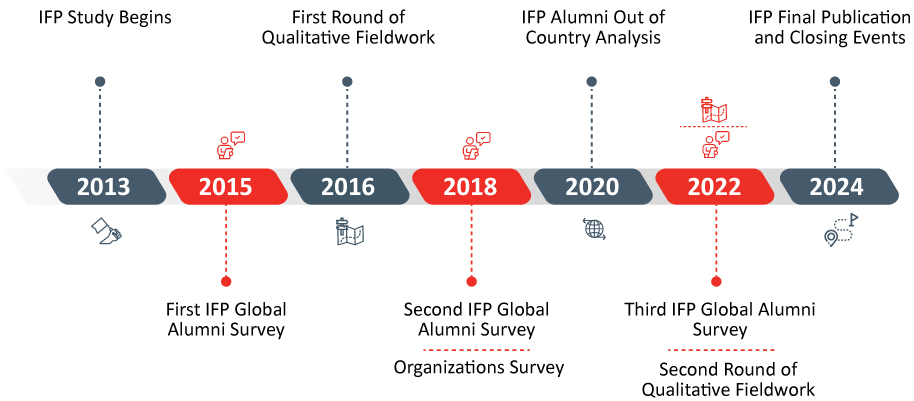 Core Research Questions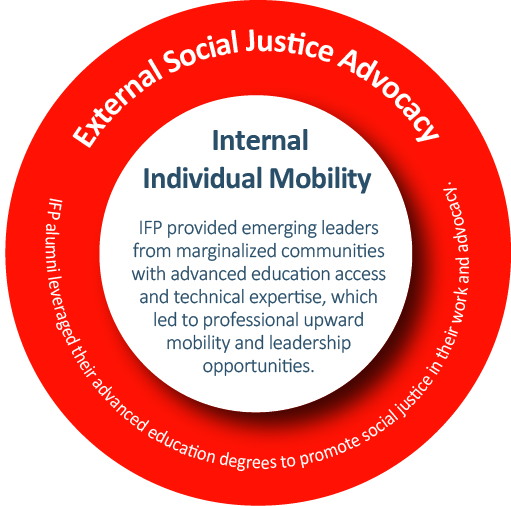 IFP's theory of change guided the Tracking Study's approach, hypothesizing that the fellowship opportunity supported participants in developing their roles as social justice leaders. The acquisition of knowledge and skills through higher education led, in turn, to social change beyond the individual sphere of influence. 
 The research questions in the study's methodology reflect the overall vision of IFP in linking higher education opportunity to social   change:
What have been the long-term impacts of the IFP experience on its alumni? How has the program enabled alumni to contribute to long-term impacts at the organizational, community, and societal levels?
What contributions to social justice have IFP alumni made as leaders in their communities as a result of their fellowship opportunity?
What is the link between higher education and social justice? How can higher education fellowship programs provide opportunities to address social inequalities?
Study Surveys
IIE conducted three IFP Global Alumni Surveys during the course of the study. 

In 2018, IIE administered the IFP Organizations Survey, a one-time survey that aimed to document IFP's impact on organizations where IFP alumni work or volunteer. This survey was designed precisely for organizational staff that work or have worked with the IFP alumni.
In-Country Fieldwork
IIE is conducting in-country fieldwork to understand better the impact of IFP alumni in their home communities and around the world.
First Fieldwork Round: From 2016 to 2018, the study team worked with 45 local researchers in 10 IFP locations to conduct local fieldwork. This qualitative fieldwork was characterized by a participatory approach that mirrored the collaborative spirit of IFP.
Second Fieldwork Round: Over July and August 2023, the study team completed the second round of qualitative fieldwork aligned to Topic 1: Reexamining Social Justice and Leadership. Nine regional focus groups with 37 participants were conducted. Participants represented 14 places of origin: Brazil, Chile, China, Egypt, Ghana, India, Indonesia, Kenya, Nigeria, Philippines, Senegal, South Africa, Uganda, and Vietnam.
Results of this fieldwork will be highlighted at the end of the study in 2024.
Other Study Activities
The study team administered additional study activities to complement quantitative and qualitative data collection. 
Out of Country Analysis: Past qualitative fieldwork revealed that our analysis was missing the voices of IFP alumni who are currently out of their home country (approximately 13%, 2018 IFP Global Alumni Survey) and who may be contributing to social justice in various ways. In 2020, the IFP team conducted a qualitative study of IFP alumni located outside of their home countries analyzed the links these alumni experience with their home countries and communities and the potential impact of the alumni. Explore the findings and more through the podcast series: Between Two Worlds.
Alumni Awards Analysis: IIE has administered three rounds of IFP Alumni Awards to alumni to support their work and professional development in areas related to their IFP degree. As a result of these three rounds, 357 IFP alumni have received funding beyond the IFP fellowship. A brief study of the IFP Alumni Awards will focus on the work that IFP alumni were able to achieve with their awards and how this contributes further to the goals of IFP, to be examined at the end of the study in 2024.
---
About IFP
Between 2001 and 2013, the Ford Foundation International Fellowships Program (IFP) supported graduate or postgraduate-level education for 4,305 emerging social justice leaders from 22 countries. Ford Foundation provided $417 million in funding resources for IFP, the single largest program commitment in its history.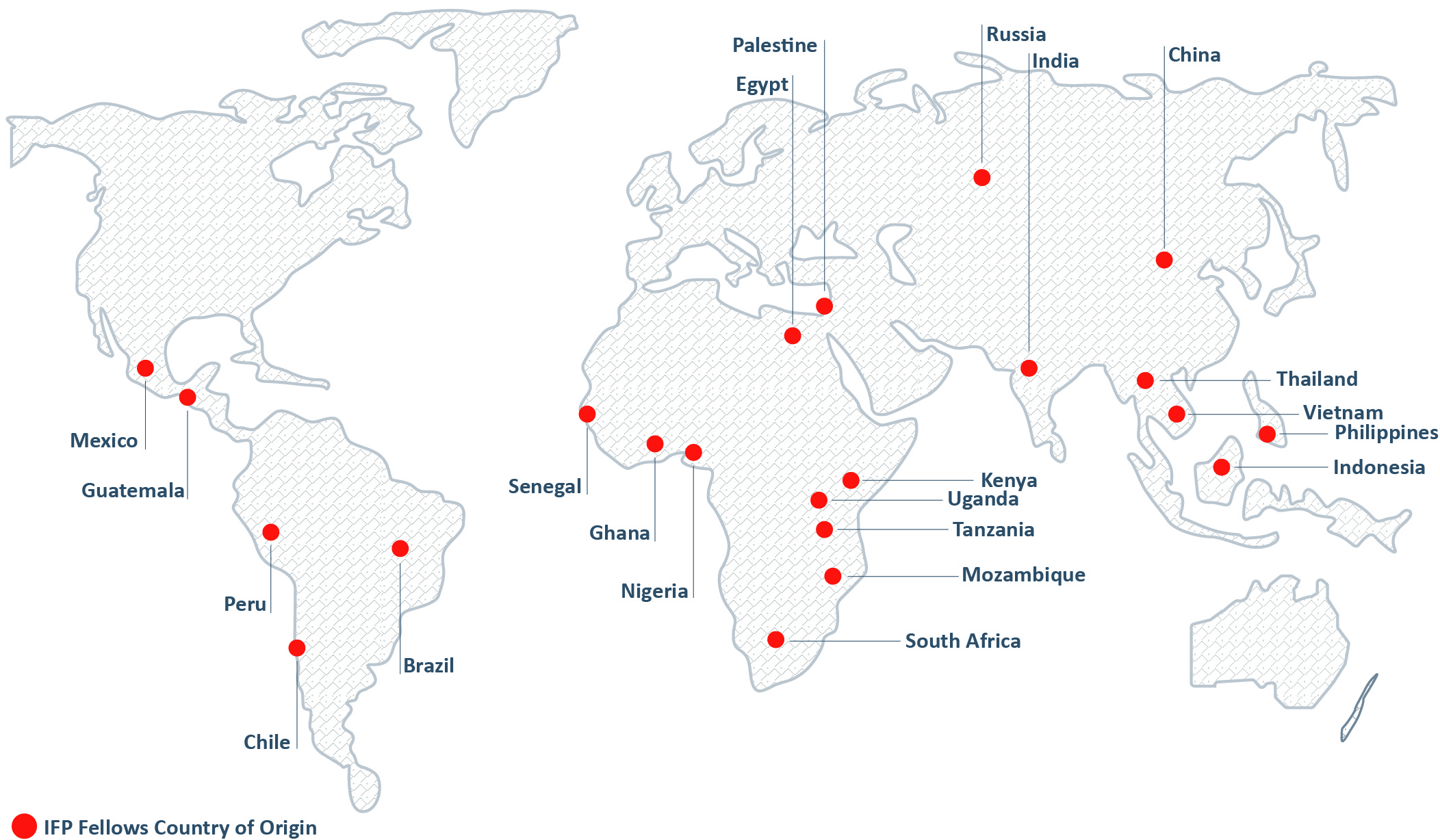 Geared toward emerging grassroots leaders and social innovators, IFP was based on an inclusive higher education model that prioritized social commitment over traditional selection criteria. Its underlying assumption was that, given the right tools, socially committed individuals from disadvantaged communities could succeed in postgraduate studies and would advance social change upon returning home. IFP alumni represent a wide range of groups traditionally excluded from higher education based on their gender, race, ethnicity, religion, economic and educational backgrounds, or physical disability, among other factors.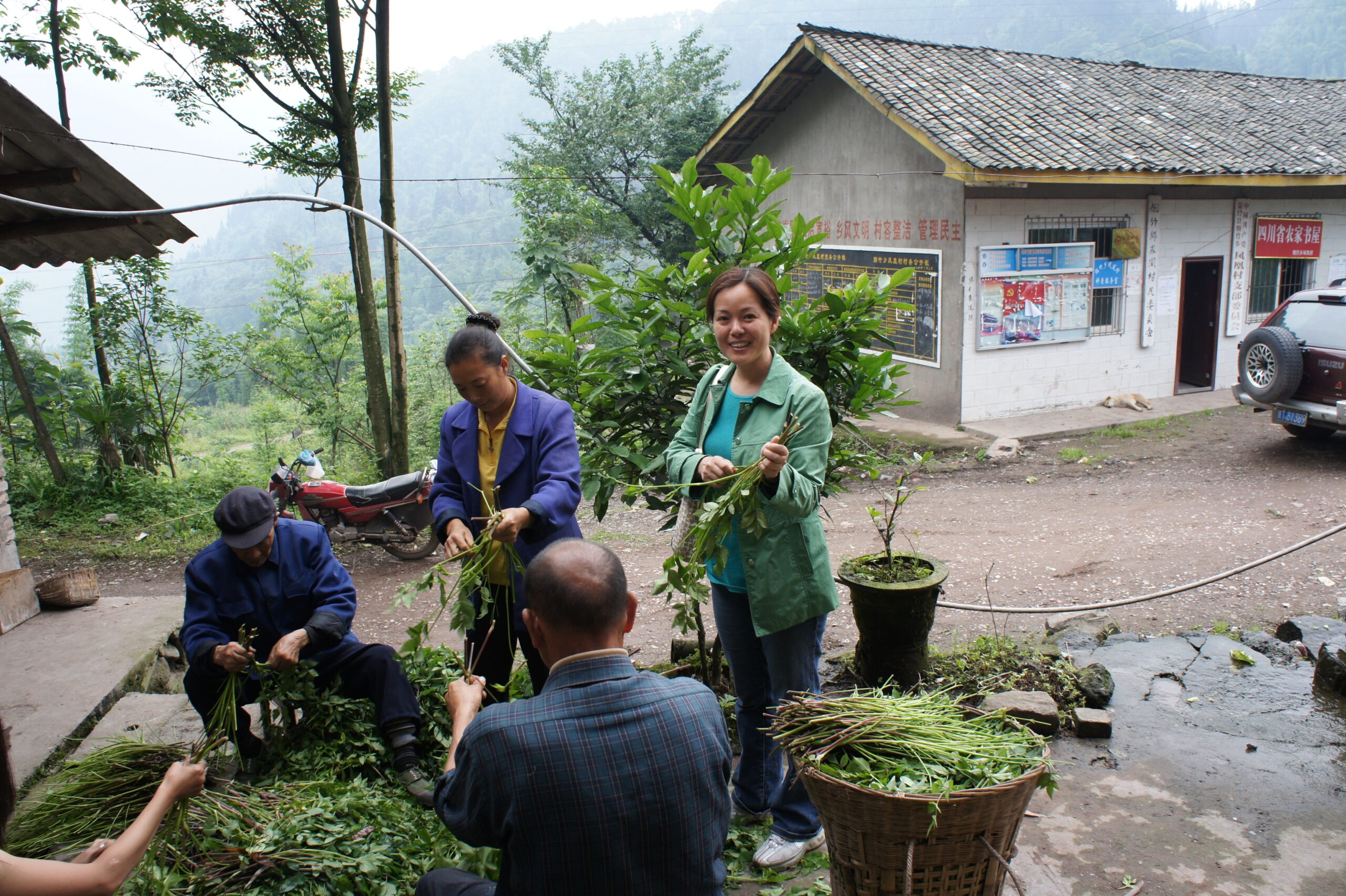 For more information on IFP, please visit the Ford Foundation IFP website.