IIE Impact Newsletter Spring 2021
---
Women's International History Month: Celebrating Women Who Lead the Way
March is International Women's History Month — a time to recognize women's accomplishments and their contributions to our culture and society. IIE celebrates three women for their impact on international education: Dr. Beverly Daniel Tatum, Dr. Rose Lee Hayden, and Dr. Sherry L. Mueller.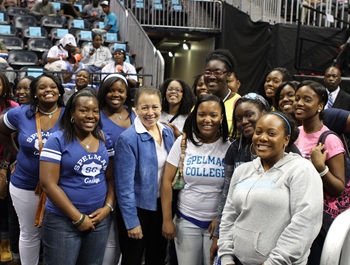 Dr. Beverly Daniel Tatum, president emerita of Spelman College, is a clinical psychologist widely known for her expertise on race relations and as a thought leader in higher education. Her 13 years as the president of Spelman were marked by innovation and growth, and her visionary leadership was recognized in 2013 with the Carnegie Academic Leadership Award. Tatum also served as a member of IIE's Board of Trustees for 12 years.

While president of Spelman, the College adopted "Going Global!," a comprehensive strategic initiative that builds on Spelman's commitment to engage students with "many cultures of the world" and to widen their socio-economic and political horizons in an increasingly complex and interdependent global society. Dr. Tatum was instrumental in establishing the Gordon-Zeto Center for Global Education to carry out internationalization initiatives — including increasing international travel opportunities for students and faculty and providing additional financial aid for international students. As a result, Spelman College is ranked among the nation's top 40 baccalaureate colleges with the highest number of students studying abroad.
A renowned authority on the psychology of racism, in 2014, Dr. Tatum received the Award for Outstanding Lifetime Contribution to Psychology, the highest honor presented by the American Psychological Association. She retired from Spelman in 2015 as president emerita to focus on her work as an author, speaker and expert on issues related to racial identity. The fully-revised 20th anniversary edition of her landmark book Why Are All the Black Kids Sitting Together in the Cafeteria? And Other Conversations About Race, published in 2017, reached number three on the nonfiction bestseller list last summer.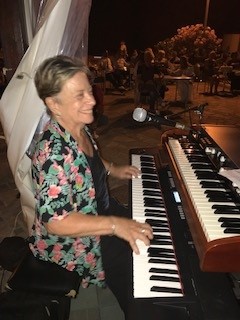 Dr. Rose Lee Hayden's career began early, when at age 17 she was selected to participate as one of five American Junior Red Cross volunteers on a delegation travelling throughout South America. She spent several months as part of a research team in the northeast of Brazil and became fluent in both Spanish and Portuguese. She went on to teach languages and administer international projects at Michigan State University, then served as deputy director for the Peace Corps for the Latin American and Caribbean Region. She subsequently served as director of the Office of U.S. Government Exchanges for the U.S. Information Agency, and head of the National Council on Foreign Language and International Studies established by a Presidential commission.
Future generations of students will experience international assignments thanks to Dr. Hayden's vision. She has included a bequest in her will to endow an international internship that will allow American college students to gain practical experience while being immersed in and learning about other cultures and enhancing their language proficiency. This life-changing international opportunity will prepare these promising young people and future leaders to help build American competence in world affairs. IIE is privileged to administer the Dr. Rose Lee Hayden Internship Program in honor of her many contributions to international education and exchange.
Dr. Hayden currently lives near Rome where she continues to write, teach language and international negotiation courses, and pursue her lifelong musical career as a jazz and blues pianist. She describes her life now as a continuous and ever-rewarding "junior year abroad."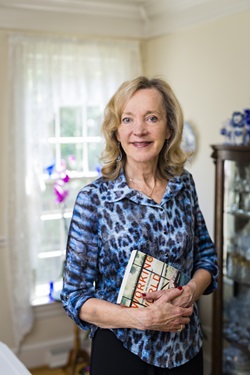 As a high schooler in rural Illinois, Dr. Sherry Lee Mueller was inspired by her 4-H leader, one of the first farmers on a cultural exchange to the Soviet Union. "Seeing his slides of the trip and learning of his experience, I was never the same." It helped shape Dr. Mueller's career in international education and cultural diplomacy — and even spurred her to lead her own group of university students to the former USSR.
Dr. Mueller launched her career at IIE in 1978. For most of her 18 years here, she was director of the Professional Exchange Programs staff, supervising the Fulbright Enrichment Seminars. In 1981, she developed and taught the first course in public diplomacy at the School of International Service (SIS) at American University. In 2012 she returned to SIS, where she is a Distinguished Practitioner in Residence, to pioneer a course and a practicum in cultural diplomacy and international exchange.
To help cause-oriented people begin or enhance careers in international affairs, Dr. Mueller co-authored Working World: Careers in International Education, Exchange, and Development. Now in its second edition, the book is about pursuing "a career that makes a positive difference in our turbulent world."
Throughout her career, Dr. Mueller's teaching, presentations, publications, and board service have focused on the evaluation of exchange programs, citizen diplomacy, and advocacy. Currently she serves on the boards of PYXERA Global and the Global Ties U.S Advisory Council, and as president of the Public Diplomacy Council. One To World has presented her with the Fulbright Award for Citizen Diplomacy for "lifelong contributions to global understanding and cooperation, one handshake at a time." She received a Centennial Medal from IIE in 2019 for her leadership and service.

These three women are testaments to the importance of international education as a vehicle to achieve greater mutual understanding and to build a stronger global community of scholars and leaders. We are grateful for their connection to IIE and are proud to recognize them for all that they have achieved.
---
IIE Refugee EdTech Program – edX MicroMasters®: An Update on the First Cohort
In January 2021, IIE launched a pilot scholarship program for displaced and refugee students to pursue graduate work online. The response was overwhelming. IIE received 1,336 applications for 25 grants.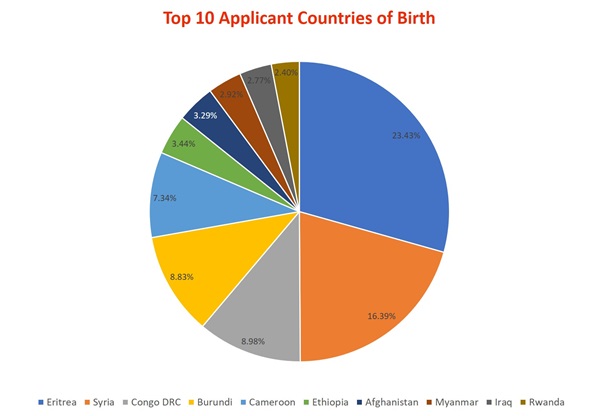 Even before the COVID-19 pandemic, the ability of these students to travel to enroll in university was severely limited. Now, it appears that online learning may prove central to the delivery of education to displaced and refugee students.
Our first cohort of students will be enrolled in a MicroMasters® program at edX, the online education platform built by Harvard and MIT. Applicants represented many countries of birth and ranged from no degree to PhD holders —signifying the interest in such a program with the current state of the world.
As Fadia, a member of our first cohort said, above, this scholarship represents "HOPE."
IIE's Refugee EdTech Program is supported by gifts from our donors. With your help, we can support many more deserving students. To learn more, please visit iie.org/give.
---

A Year after the Shutdown: IIE's Response to COVID-19 and a Look Ahead
During these unprecedented times, IIE has continued to work around the globe to ensure the best minds are empowered to share knowledge that will create a better future for us all.
Last summer, IIE's Emergency Student Fund (IIE-ESF) provided over 875 grants to international students studying in the U.S. who were severely impacted by the COVID-19 pandemic. The need for help is still very great. This month, IIE launched a third round of nominations for ESF COVID-19 grants and received almost 600 nominations. Current funding will allow us to make 150-200 grants. With your help, we can support more students. iie.org/learn-esf
IIE's research team also produced a Snapshot Survey Series, which provides critical information about the effects that COVID-19 has had on international student mobility and the measures U.S. higher education institutions are taking in response to the crisis.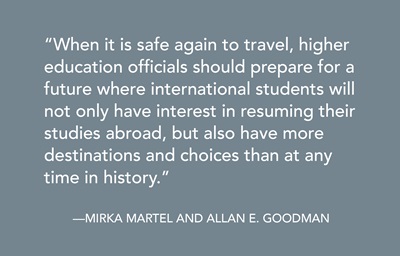 As we slowly emerge from the crisis, there is positive news. After each of the 12 pandemics in IIE's history, international mobility actually surged. IIE's Mirka Martel and Allan E. Goodman believe that this time will be no different.
In this essay for the Social Science Research Council, Markel and Goodman argue that while the flow of university students across borders is resilient and will rise when the pandemic ends, higher education everywhere is likely to be different. When it is safe again to travel, not only will international educational exchanges resume rapidly, but international students will have more destinations and choices for studying abroad than at any time in history.
---

"To Rescue Scholars is to Rescue the Future" An Impact Study of the IIE Scholar Rescue Fund (2002-2020)
Over the past several months, IIE's research team conducted a study of IIE Scholar Rescue Fund (IIE-SRF) alumni. This study, funded by a gift from IIE Trustee Henry Kaufman, explores the personal and professional trajectories of more than 200 IIE-SRF alumni from 38 countries and representing diverse academic fields. While we have always recognized the value of rescuing professors and researchers in peril, we now have concrete evidence of the substantial impacts that IIE-SRF alumni have made on their home and host communities around the world, as well as within their fields of study. We will share all of the results with you when the study is published in mid-April.
---
The Rise of Remote Global Internships: Promising Practices and Implications for Career Readiness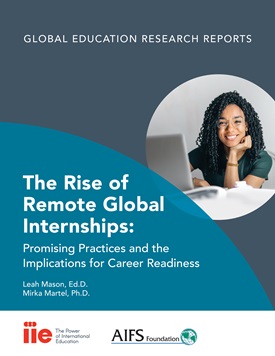 Remote global internships provide experiential educational opportunities for university students. On March 25, IIE's Research, Evaluation, and Learning Unit released a paper that explores the potential role these internships have in developing students' skills acquisition, global citizenship, and career readiness. Through this research, we hope to contribute to the conversation on making international experiences more accessible: remote global internships play a possible role in widening the opportunities for students to gain international work experiences while remaining in their home country, and can benefit students both during and after the COVID-19 pandemic. Find the publication here.
---
Increasing access to education around the world creates a better future for us all.
By supporting our work, you give a voice to students and scholars in need.