Celebrating the Life and Legacy of Joanna Rose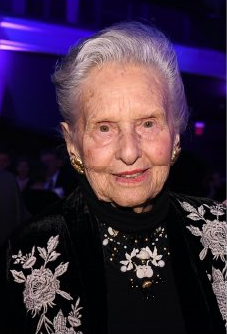 The Institute of International Education celebrates the life and legacy of Joanna Semel Rose, a patron to the arts and humanities, brilliant wine aficionado, and remarkable scholar. She attributed her first grant, in 1951, to IIE. Joanna was married to her loving husband, Daniel Rose, for 65 years. Together, they have four children and eleven grandchildren. She passed away in her New York home on November 13, 2021, just one week shy of her 91st birthday. We remember her as an influential New York philanthropist with an unwavering dedication to creating meaningful change in the world.
Joanna earned the highest academic distinction as a student at Lawrence High School and Bryn Mawr College. She continued her studies as a Bryn Mawr European Fellow at St. Hilda's College at the University of Oxford and at the Shakespeare Institute in England. After her studies, Joanna served as the chairman of the Partisan Review, a notable political and literary magazine.
Joanna was an esteemed hostess of philanthropic and academic events in New York City. She and her husband are well-known for hosting dinner parties and salons that brought together intellectuals from all over the world. Guests remember her for meaningful and lively conversations driven by her genuine commitment to creating lasting change in society. She was also a self-proclaimed "treasure hunter," building a variety of collections, including 651 American patchwork quilts. In 2011, over 25,000 visitors came to see her exhibition Infinite Variety: Three Centuries of Red and White Quilts at the Park Avenue Armory by the American Folk-Art Museum.
We are inspired by her life-long support of educational initiatives. Joanna served on the board of the New York Council for the Humanities, the Harlem Educational Activities Fund, and many other art and education organizations. We are deeply grateful for her generous contributions to IIE's Scholar Rescue Fund. Her legacy as a philanthropist will shine on through the scholars in our SRF program that were helped by her generosity and advocacy. The IIE-Scholar Rescue Fund is the only global program that arranges and funds fellowships for threatened and displaced scholars at partnering higher education institutions worldwide. Read more about IIE's Scholar Rescue Fund here. To learn more about Joanna's legacy, read a reflection from her time as a student at St. Hilda's College at the University of Oxford.