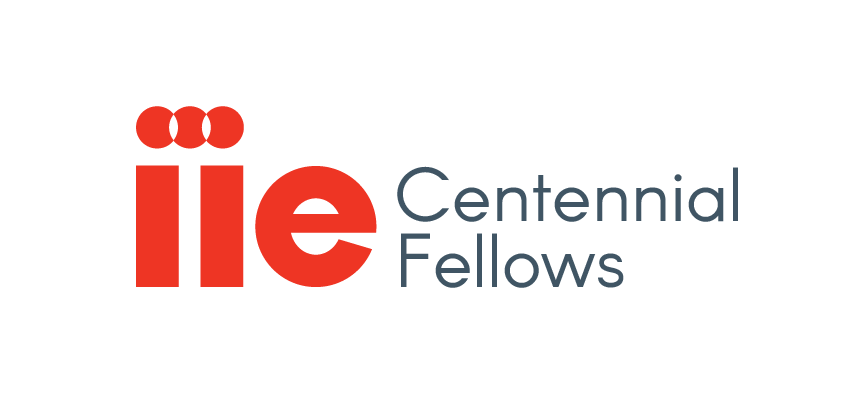 Virtual Transition for Project Buku Buku
By Sabrina Verleysen, Co-Founder of Project Buku Buku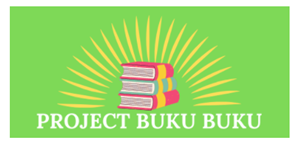 While the COVID-19 pandemic has brought unprecedented challenges to completing the goals of Project Buku Buku, it has also gifted incredible and exciting opportunities for creativity, innovation, and collaboration. Over the past few months, I have focused my efforts on transitioning the project to a virtual format, building out our core team, and planning for a successful launch of the scholarship program. I would like to provide an update on our transition efforts and our commitment to Indonesian school communities.
First, I have hired a new member of the team, a very bright and enthusiastic Villanova University student, to be our strategic coordinator. Molly has helped our story come to life across our social media platforms and official website. She has supported me in curating a virtual library of English language resources and has been a wonderful addition to the team. She will support in all facets of the scholarship selection process and TOEFL preparations for students.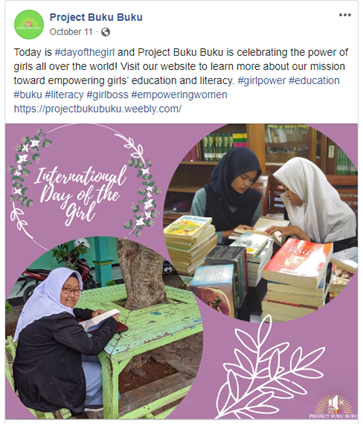 Next, we have expanded our support to include providing Indonesian educators with virtual English language resources. As part of this new approach, we provided Indonesian English teachers with additional information in the form of a digestible and simple one-pager on supplementary English language learning free applications, that teachers can choose to implement for their students to complement their virtual English learning. These apps are not meant to replace any substantive English language lessons, but to reinforce the lessons the students are receiving virtually. The chart included descriptions of the various applications and their potential use for Indonesian teachers and students. It was important that all apps were free for users.
The one-pager was extremely well received by educators and they have indicated that they have sent it to many of their contacts. They have expressed excitement at incorporating these mobile based exercises inside and outside of the virtual classroom and relief that the challenges of virtual teaching are being taken into consideration. This particular focus on assisting the teachers is even more important as Fulbright English Teaching Assistants will not be joining these classes in 2020/2021 due to the COVID-19.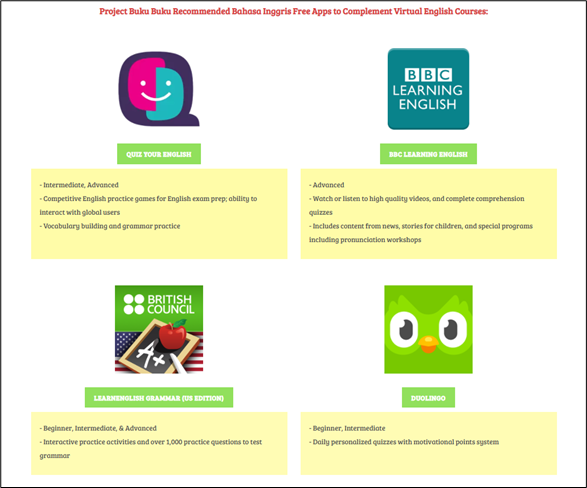 A section of our English apps one-pager
Although we have expanded our scope of support to Indonesian communities, we remain committed to our ultimate goals of supporting English literacy through the distribution of English books and encouraging continuing education by supporting students to take the TOEFL examination. While we had originally planned to establish English lending libraries at each school, we have chosen in the near term to maximize our current impact by curating a virtual library of English language resources, which provide full length, free, and accessible short stories. This virtual format will be the basis for our scholarship competition which will ultimately fund 20 students to take the TOEFL examination in 2021. Project Buku Buku will cover all costs related to the TOEFL examination, prep materials, and travel arrangements to the test center. The competition will be open to all students in Grades 10, 11, and 12 across seven of our partner high schools in Indonesia.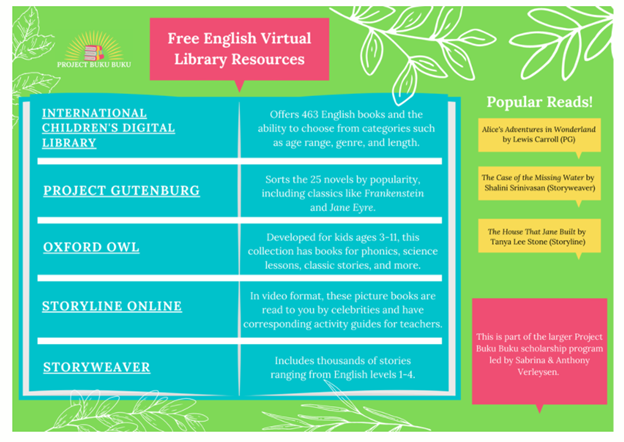 Our virtual English library for students
We are also working on preparing a team of scholarship selection committee members who will help to review essays and select scholarship winners. Our selection committee members come from all different walks of life and reflect the diversity of our students and our program. I encourage you to follow along on this exciting virtual journey and check out our website, Twitter, Instagram, and Facebook for updates on the scholarship competition, our student winners, and their journey preparing for the TOEFL examination.