Bridging-Center for Higher Education for Internally Displaced Youths in Kaduna State
By Caroline Obiageli Emeka-Ogbonna (PhD), Director of Center for Critical Thinking Teaching and Learning at the Nigerian Defence Academy, IIE Centennial Fellow 2022-2023
Growing up as a headmaster's daughter from a little village of Orba in the Udenu Local Government Area of Enugu State, Nigeria, and going through education in village schools, I never imagined I could attain the academic heights I have today. I remember reminiscing in awe as a graduate student at the University of Exeter in the United Kingdom how far education had taken me. Today, I am a lecturer in Africa's premier military university and a Director for the Center for Critical Thinking, Teaching and Learning in the institution, as well as Coordinator of the postgraduate Research Methodology Programme. Attaining the Fulbright Visiting Scholar fellowship was mind blowing and left me with the conviction that with a good education, there is no limit to a child's growth and impact on society. This motivated me to seek the Centennial Fellowship to be able to support the youths who are experiencing displacement that is depriving them of the opportunity for education. Hence the motto for my project: Education, Growth, and Inclusion. I am therefore motivated to hope that a child whose life and educational journey starts in a place like Angwan Zawu Internaly Displaced Persons' (IDP) Camp and in a classroom within an incomplete building could grow someday to unlimited and unimaginable possibilities in life, in the nation, and in the world.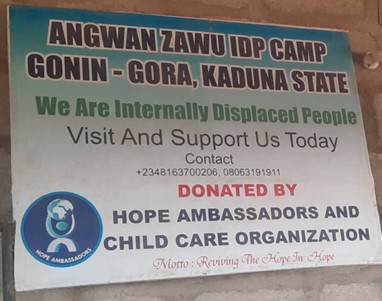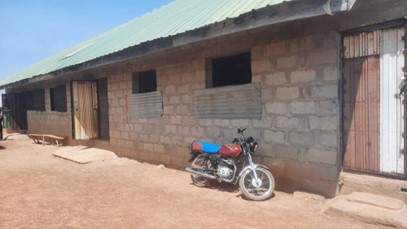 Project
Angwan Zawu IDP Camp is one of the six such centers located in Chikun Local Government Area and many others littered all over Kaduna State, North West, and North East regions of Nigeria. I located the camp with the help of some staff of International Organisation for Migration (IOM) who appear in a picture below with me and some of the camp organizers. This particular camp is occupied by about 2004 people who are mostly indigenes of some Southern Kaduna villages such as Rumanan Gbagyi, Malmo, Shuwaka, Rumanan Hausa, Zankoro, along with many others who have had to flee their ancestral villages for safety from incessant attacks by bandits since 2015. The IDPs recount how the attackers repeatedly struck their villages to rustle their animals, rape their women, kill or kidnap their men, and eventually graduated to burning down their houses. Their flight to Gonin Gora community in 2020 was due to their sense of total helplessness and a bid to preserve their lives and dignity from bandits who have eventually taken over most of their villages. However, as basic farming communities, they have also fled from their farmlands and crops. They lament about how households that previously produced more than 100 bags of corn in one farming season are now desperately begging to get 10 cups of corn to eat. Their socio-economic situation coupled with overbearing pressure on their host community, have left the families with untold hardships under which education of their children has become foregone for alternatives. Many of the youths have resorted to menial jobs within the communities to support their surviving family members.
My project, therefore, seeks to establish a bridging center for higher education in a safe location accessible to the youths in the Angwan Zawu IDP Camp. It aims at increasing the equitable access to higher education for about 1500 youths and children who are in this center and surrounding communities. The Bridging Center would provide a hybrid platform that seeks to bridge the gap between established higher education institutions and these youths whose conditions of life would ordinarily not allow enrollment into such institutions. Some of the youths have expressed desires to study courses like Computer Engineering, Nursing, Business administration, and others, but without the means of achieving such dreams. The center would provide them an opportunity to achieve these dreams, while they can still engage in the jobs with which they support themselves and their families. It is hoped that such educational attainments would empower them to support not only their communities, but also contribute to the professional needs of a developing country like Nigeria.
Project Goals for the Year
I am most looking forward to the Bridging Center's provision of equitable access and needs focused higher education for the IDPs through:
Providing physical facilities that can enable the youths participate in online higher education programmes.
Serving as a bridge between the youths and higher education institutions who could possibly offer free or subsidized tuitions and certificates.
Delivering tutorials and enrichment support that would offer the youths highly needed life transformation and intellectual empowerment.
I have reached out to my Fulbright fellowship host university in USA, National Open University of Nigeria, and two other institutions recommended by colleagues for possible online programmes for the displaced youths. Partnership negotiations are ongoing, but I strongly hope for the students to get access to courses closest to what they desire.
Negotiations are also ongoing for a safe accommodation for the Bridging Center within a nearby military barrack as available buildings and circumstances in the camp do not guarantee safety of the computers and internet equipment. The only educational structure in the camp is inadequate for its multiple uses as nursery/primary school and community hall. The IDPs are also at risk of follow-up attacks within the camps; hence some of them are living in nearby communities.
The goal is that by the end of the year, the students would have run a full academic year of any course they eventually enroll in, and we can work collaboratively to seek further funding to sustain the center for at least another one year so each of the youths could attain either a National Diploma or an Associate Degree in his or her chosen course.
Most Significant Aspirations
In Angwan Zawu Camp there is a Primary School provided by a Non-Governmental Organisation – Southern Kaduna Resilience Fund. I witnessed in the children a zeal for learning and the joy of being in school, despite the clustered classroom and the low standards and provisions in the school. Right now, all classes from Nursery 1 to Primary 5 are inside the one available classroom. I hope to help in fulfilling the yearnings of the older children through the Bridging Center and to provide for the displaced community not just the youths' achievement of their desired educational dreams, but also to give the younger children motivation to strive with hope in educational pursuits. This way I hope to support the community's growth and inclusion.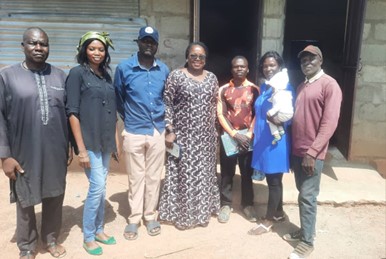 ---
---