The Development of Innovative Education Solutions to Meet the Needs of Afghan Refugees in Tajikistan
By Lutfullo Tagoev, Founder and CEO of Smarthub TJ, IIE Centennial Fellow 2022-2023
I believe in innovation and technology and their contribution to solving world problems. For the last four years, I have been actively working on digitizing the education system in the country. After the Afghan government collapsed, Tajikistan became the first destination for Afghan refugees and displaced communities. Most of this population have basic knowledge and work experience gained back in their homes. However, they don't see opportunities to continue their education and grow professionally in Tajikistan. This project incorporates technology and innovation to address issues that Afghan refugees living in Tajikistan face.
Right: An Afghan refugee during her internship at Smarthub TJ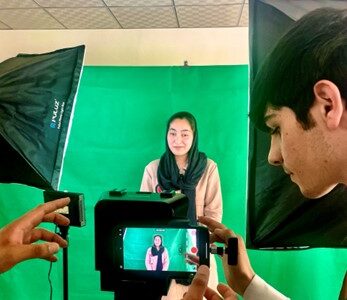 Unique Challenges: Access, Motivation, and Language
To begin with, the education system and the economy are not well-developed in Tajikistan. Tajik citizens themselves leave for other countries to study and work. Therefore, when it comes to access to education and work for the Afghan refugees in Tajikistan, no authorities take it as a primary concern. Although I understand the issue, I do not accept it as an excuse to leave this population unemployed and less educated. Education in today's world is a basic need. Also, there are more systematic issues that Afghan refugees face in Tajikistan. Bureaucracy is one of them. If an Afghan refugee wants to study or work legally in Tajikistan, they must undergo many government procedures and obtain the required documents and permits.
Moreover, my observation shows that almost no Afghan refugee wants to build their future in Tajikistan. Instead, they want to be prepared and access other developed and Western countries, particularly the USA and Canada. Despite this fact, they still live in Tajikistan for at least three to five years before getting their documents ready. During this period, the majority do not attend schools or universities. It brings us to another challenge: their motivation and readiness to participate in educational activities. Just hoping that one day they can leave Tajikistan and searching for these opportunities get all their attention and efforts.
Yes, there are refugees who use the moment to continue their education by attending seminars, conferences, universities, and other training and workshop programs. Even though both Afghanistan and Tajikistan speak Dari, the language is still a huge barrier for them. Our alphabets are different. Also, due to the huge influence of Russia, many training programs and workshops are organized in the Russian language which makes it inaccessible for Afghan refugees.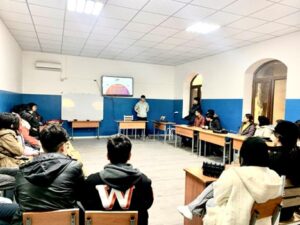 Innovative Solutions: Internship Opportunities, Online Courses, and Mentorship Program
Detailed analysis, educational technologies, and innovation helped us design effective solutions for the particular needs of Afghan refugees in Tajikistan. First of all, I aimed to develop community learning among refugees. By providing internship opportunities and creating four online courses in Dari, I plan to remove language barriers and systematic challenges so Afghan refugees can learn and gain essential skills to start working. Put simply, they need in-demand and accessible education programs that prepare them for the trending jobs not only in Tajikistan but in any other country in the world.
As of today, following one of the objectives of the IIE Centennial Fellowship Project, I have hired ten Afghan refugees as interns in my company. I have conducted on-the-job training in online course creation, instructional design, video-making, and management for them. They started their internship program in April and will continue working with us until the end of June. So far, they have gained theoretical and practical knowledge of instructional design, online course creation, and curriculum development. Currently, they are designing online courses on social media marketing, introductory computer science, web development, and motion design in Dari for the rest of their community. The launch of these courses is scheduled for the beginning of July. It is important to mention that among Afghan refugees there are talented specialists who have worked in these fields back in their country. We collaborated with these Afghan experts to better customize the design of the courses. This approach helps us reach a wide audience and educate them to overcome some of the challenges we have found.
Moreover, to increase Afghan refugees' motivation to continue their education in Tajikistan, I plan to run a mentorship program with the help of these Afghan interns. They will be ambassadors in their community and promote the importance of education among the rest of the audience. Meanwhile, I will conduct college preparatory training programs for at least 100 Afghan refugees. I will also create a platform to mentor them through their college admission process.