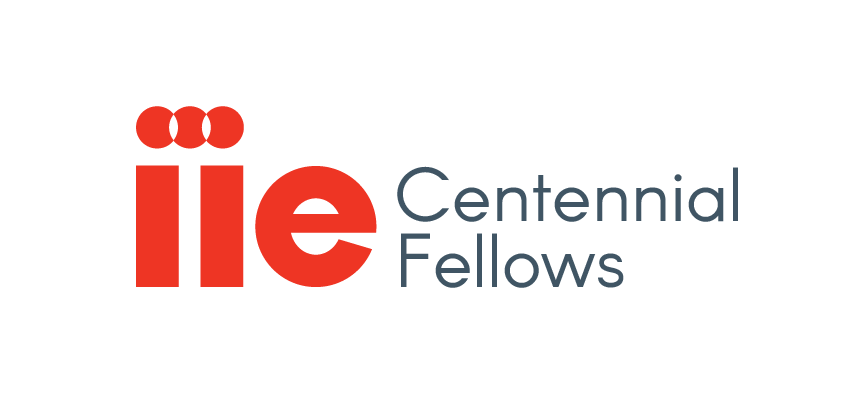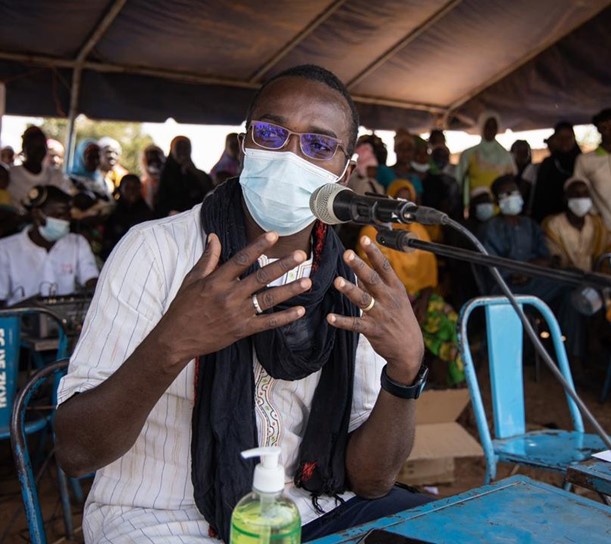 RHINO, the Magic of Community Health Clubs, and a Community Radio Program
By Dr. Moumini Niaoné, 2020 IIE Centennial Fellow and Founder of Pull for Progress
"Do not curse the darkness, light a candle."
Let me take you to my country, Burkina Faso. It is a landlocked West African country of 21 million people. The infant and maternal mortality rate is one of the highest in the world, a reflection of a very weak health system. Around 8 million out of the 21 million people, live with less than 1$ a day, and most of them are in rural and remote areas in underserved communities.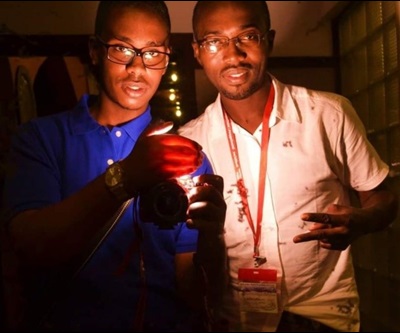 Since 2016, the country is also facing an unprecedent security and humanitarian crisis with more than 1 million internally displaced people with a high need for assistance. These intertwined factors, the rampant government corruption, and now COVID-19 have created very alarming living conditions for communities that were already vulnerable.
There are countless reasons to feel desperate and even to run to other countries with better living conditions. Or to stay and fight for the communities. Instead of cursing the darkness, I preferred to light a candle.
A Life Changing Meeting
My name is Moumini Niaoné, I am a medical doctor and I specialize in social community and behavioral health. I entered medical school to fulfill my childhood promise of treating diseases and saving lives. This noble dream turned very quickly into frustration and disappointment when I started experiencing helpless, unnecessary, and avoidable infant and maternal mortalities in our healthcare settings.
I had an unpredictable and life changing meeting in 2012 in India, with an American medical student who introduced me to the community health clubsapproach. The clubs are community-based organizations using the power of social expectations to create a culture of health within our villages. They aim to use the assets of the community and science-based approaches to find solutions to the community issues which are culturally, contextually, and economically adaptable.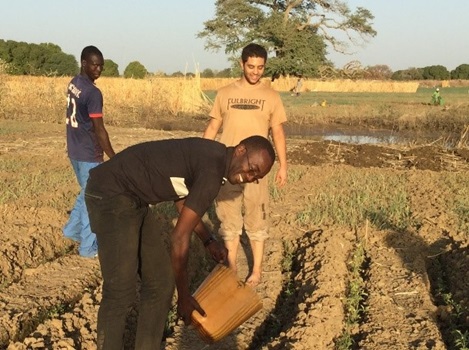 Ordinary People Can Do Extraordinary Things
We agree change can occur in many ways, but we believe it has more and longer lasting impact when it comes from within the communities. We have decided to create a non-profit named Pull for Progress, that specializes in health promotion, education and community development. Our interventions use a community development approach and health is our entry point to get the community members to sit together and talk about their common issues. When they have common understanding of the issues and their root causes, they easily agree on solutions. Our community champions, the 'natural helpers' are 80% women.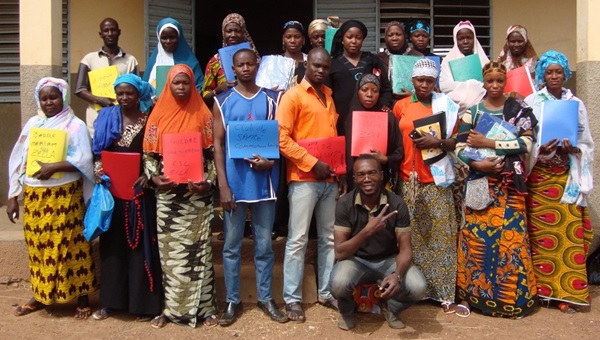 These women just have few years of education because they got married young and did not have the chance to study further. We turn this sad situation into a happy ending by giving them another opportunity to learn and improve their understanding of the world. They are taught basics of public health, disease prevention, and are trained to conduct participatory group sessions. They are later presented to the community as our facilitators who will conduct the sessions. I remember some quotes from our facilitators that moved me.
"Before the community health clubs, I was no one in the village. Now, when people see me, they respectfully greet me and say, 'Good morning Teacher'. I think this initiative changed my life forever. I feel the sense of usefulness, my life will never be the same".
"I never knew I could stand in front of hundreds of people and talk. It is amazing that they listen to me, and I can even see them applying what we say in the group sessions".
Looking back, I am extremely proud of what they have achieved. They ran hundreds of sessions, helped thousands of participants significantly improve their knowledge, and brought about noticeable behavioural changes in their communities. The clubs were successful at introducing positive behavioral change to improve public health, such as hand washing with soap and a significant reduction of open defecation in the villages. Another extraordinary impact of our community health clubs is the increased sense of community and social cohesion among community members. The chief of one village recalls: ''Our world is becoming more and more individualistic which is unfortunate. Before these club sessions, it was very rare to get community members to sit together. Now we meet every week, we talk about disease but also about different issues that affect our lives as a community. People talk to each other; they find agreement and solve countless conflicts. This initiative is definitely a very good thing this is why I never hesitate to support you.''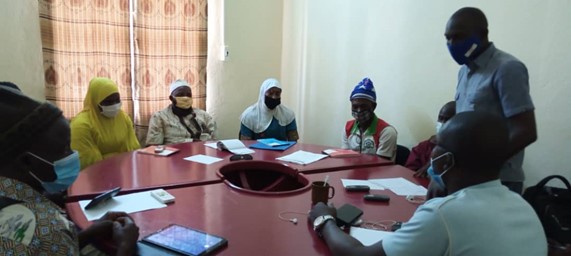 RHINO, an Innovative Solution to Community Meetings in the COVID-19 Era
Because of the COVID-19 crisis, our community health club members could not meet without risking infection and spreading the virus. To find an alternative solution, Pull for Progress has decided to partner with Developing Radio Partner, an American profit organization that specializes in radio programs, and a local radio station.
The goals of the Radio Health Information Network (RHINO) are to:
Expose a broad audience to information about the coronavirus, how it spreads, and what to do if you get sick
Facilitate the adoption of healthy practices that reduce the spread of the deadly disease
Provide a platform for communities to develop strategies to cope with the impacts of the economic shutdowns
Foster communal cohesion by giving voice to ethnically diverse members of the community who are collaborating for the betterment of their community
Through RHINO, our goal is to continue our community health club intervention with even more impact, without putting our members to unnecessary risks. We have selected 7 community members and trained them how to conduct interviews, how to use digital recorder, and how to use a software to edit the recordings.
In a recent study, more than 80% of people in Burkina Faso rely on radio for information and our community members have access to it. Every week, we broadcast a program that contains information related to COVID-19 and we correct the fake news that circulates within the community.
One of the very appreciated part of the radio program is "Dr. Sraa N'naa" which means "Dr. is this true?" It gives opportunities for the community members to ask a question and get clarification about any health topic, especially COVID-19. As an example, one participant asked, "Dr., is it true that drinking hot water with honey can cure COVID-19?". After they listened to the answer, many people said it is very important for a doctor to shed some light on these kinds of misconception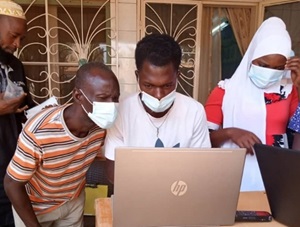 RHINO is an opportunity to provide more freedom of speech to the community members, especially women. Their voices are not usually heard, despite the incredible key roles they play in our societies. During our meetings, the community members expressed their enthusiasm: "I was so happy to listen to the radio program and hear songs we prepared. This shows we are important and taken in account."
In a context of violent extremism, establishing dialogue between community members and promoting freedom of speech is extremely important for peace building. Our hope is to expand the program to as many people and radio partners as we can. The overarching goal is to establish our own community radio, owned and operated by the community.