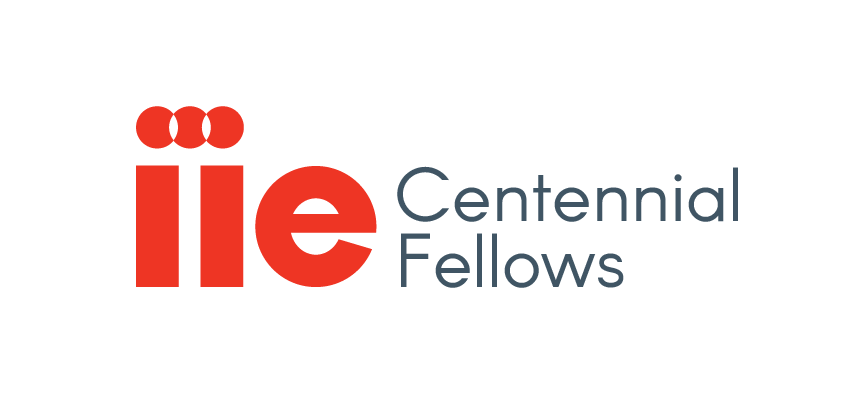 Internationally Renowned Professors Meet Ukrainian Law Students Seeking to Rebuild Post-War
July 13, 2023
Nazarii Stetsyk, IIE CENTENNIAL FELLOW 2022 –2023
Mary Ellen O'Connell, Michel Rosenfeld, Hanna Suchocka, and Others Delivered Guest Lectures in Professor Stetsyk's Human Rights and Rule of Law Course
IIE selected Professor Nazarii Stetsyk as a 2022–2023 Centennial Fellow to lead educational and research programming in support of displaced Ukrainian students seeking to reconstruct the country post-war. His vision: for Ukrainian students to return to and rebuild their country "in accordance with the values of democracy, human rights, and rule of law." Stetsyk is among four of fellows leading projects designed to support refugee and displaced groups, including those from Afghanistan, Nepal, and Nigeria.
Classes with Prominent Law Professors and Practitioners
As the Russian invasion of Ukraine wages on, forcibly displaced law students are already planning a stronger and brighter future for Ukraine. Post-war, Ukraine will face complex, foundational legal issues, which is why the country will need a new generation of lawyers devoted to democratic and liberal values. Through the Invisible University for Ukraine Project—launched by Central European University in spring 2022 and bolstered by the IIE Centennial Fellowship—I aim to provide international support for Ukrainian law students by connecting them with international academia, including respected law professors and practitioners.
This spring, students in the Project's Human Rights and Rule of Law course had the exclusive opportunity to meet and exchange theories and ideas with some of the foremost experts in the field. Under the instruction of both Ukrainian and foreign law experts, students explored areas such as comparative constitutional law, European standards of judiciary, and international law. Class discussions covered: (1) the global and transnational dimensions of law and human rights; (2) building and strengthening institutional capacity to protect the rule of law in the Ukrainian context; and (3) law and human rights issues in times of war and post-war transformation, specifically in Ukraine. The guest lecturers all noted the students' curiosity, activity, competence, and erudition, which manifested in the content and level of their questions and discussions.
In total, twenty-five professors and practitioners delivered guest lectures to nearly forty students over the course of twelve classes in the spring 2023 semester. Speakers included:
Nina Betetto, Justice of the Slovenian Supreme Court, Former President of the Consultative Council of European Judges, Council of Europe
Mykola Gnatovskyy, Justice at the European Court of Human Rights, Council of Europe
Marcin Matczak, Professor of Law, University of Warsaw (Poland)
Manuel Cancio Meliá, Professor of Criminal Law, Universidad Autónoma de Madrid (Spain)
Mary Ellen O'Connell, Professor of Law, University of Notre Dame (USA)
Taras Pashuk, Legal Advisor, Secretariat of the Venice Commission, Council of Europe
Michel Rosenfeld, Professor of Law, Cardozo School of Law, Yeshiva University (USA)
András Sajó, Professor of Law, Central European University
Hanna Suchocka, Professor of Law, Adam Mickiewicz University in Poznań, Honorary President of the Venice Commission, Council of Europe
Renata Uitz, Professor of Comparative Constitutional Law, Co-Director of the Democracy Institute, Central European University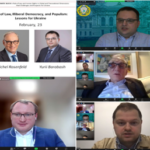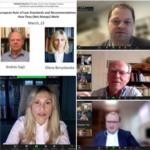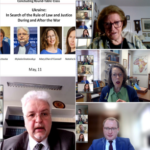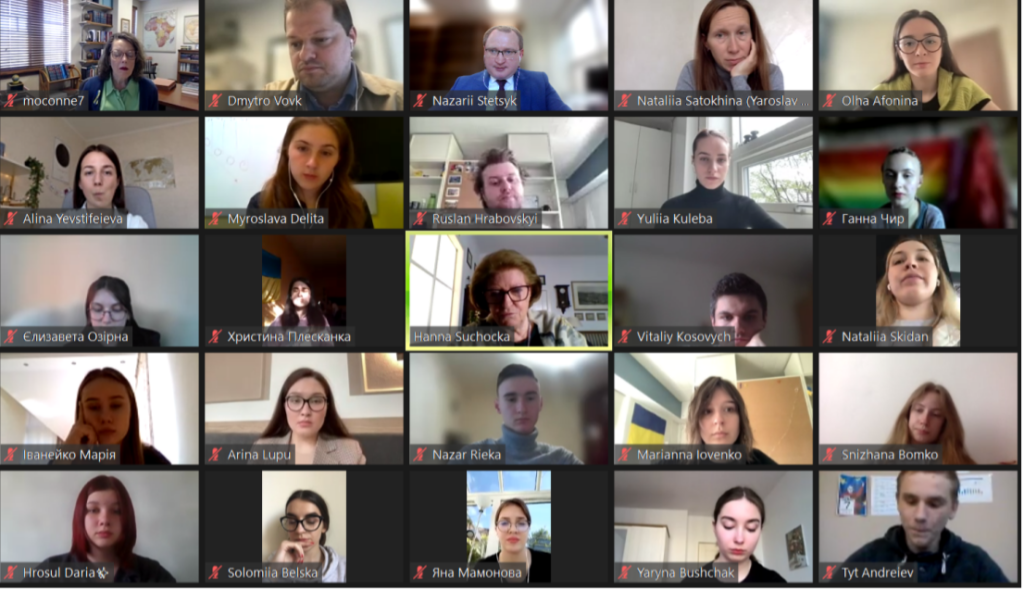 Impressions and Feedback from Ukrainian Students
Students are showing overwhelmingly positive feedback in the Project's post-semester survey. The questions concerned, in particular, the relevance and applicability of the course themes; the class delivery methods and interactions with students; readiness to use gained knowledge in the further reconstruction and transformation of Ukraine; and emotional and psychological support from lecturers and course organizers. The majority of students chose the answer options "extremely" and "good." In an open-ended prompt, students were asked to choose four words to describe the significance of the course and the Project.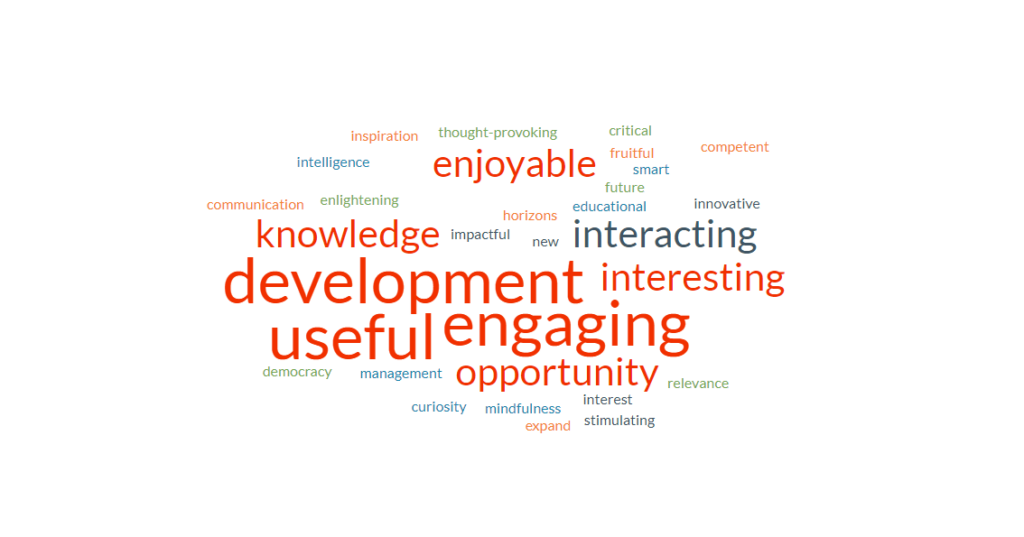 The Ukrainian students have completed their in-person participation in summer school in Budapest (Hungary) and Lviv (Ukraine). They will present the results of their respective research projects in the fall.
Photos 5-9, Graphical results from the student survey, conducted on May 11–31, 2023, using Google Forms. Thirty-one students participated.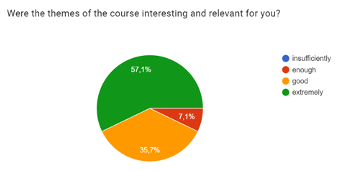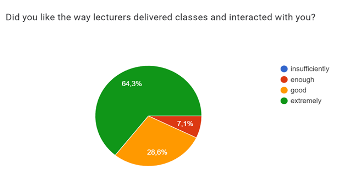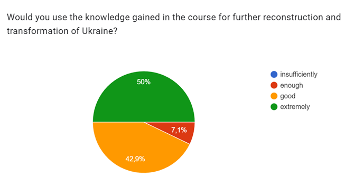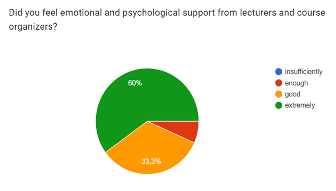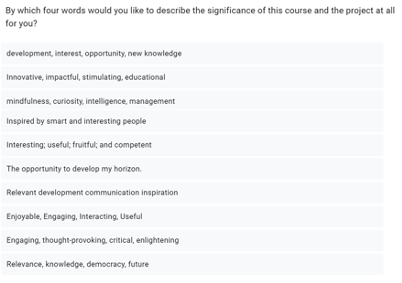 Nazarii Stetsyk is an Associate Professor of Law at Lviv National University (Ukraine), specializing in legal theory, rule of law, and human rights. As a 2020–2021 Fulbright Visiting Scholar to the University of Notre Dame School of Law, he implemented the Fulbright Research and Development Program, where he explored U.S. Supreme Court case law on issues of ensuring its consistency and development. After the Russian invasion of Ukraine in February 2022, Professor Stetsyk co-organized the project for displaced Ukrainian students, "Invisible University for Ukraine," under the leadership of the Central European University in Budapest-Vienna.
Named in honor of IIE's Centennial and association with the Fulbright Program, the IIE Centennial Fellowship seeks to help enhance Fulbright as a life-long experience and recognize alumni whose work embodies the program's underlining values of mutual understanding, leadership, global problem solving, and global impact.
---
---