IIE SIO of the Year Award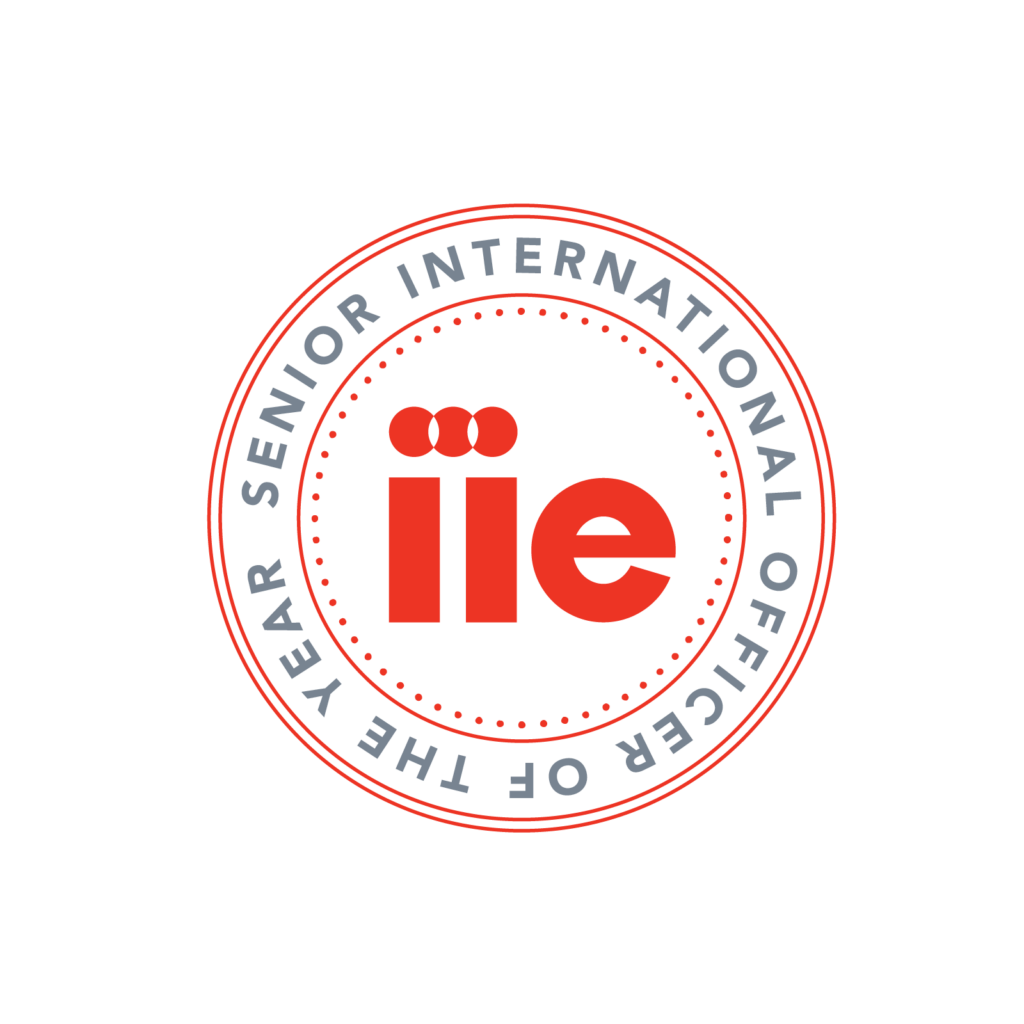 The IIE Senior International Officer (SIO) of the Year Award was created in honor of IIE's Centennial in 2019 and is presented annually to an SIO who has demonstrated extraordinary leadership in internationalization.
Eligibility & Selection Criteria
Any current Senior International Officer may be nominated for the IIE SIO of the Year Award. A Senior International Officer is defined as the individual who leads international initiatives at an institution of higher education. Eligible nominees who successfully submit a nomination form and accompanying documents will be reviewed by a distinguished panel. Nominees will be reviewed according to the following criteria:
Has developed a widely embraced understanding of international education and engagement as important to the mission and goals of their institution
Has fostered multi-faceted, strategic international programming that has had significant impact across the institution
Has built effective administrative structures, procedures, and policies for supporting international work across the institution
Has made demonstrable, significant, and innovative contributions to the field of international education
Has demonstrated a commitment to mentoring new professionals and broadening access to the field of international education
Continuously updates and expands their knowledge of the theories, methods, and best practices of academic internationalization
Nomination Process
Any SIO may be nominated by others or self-nominate by completing the nomination materials and submitting to IIE when the nomination period is open. Nomination materials include a complete application form (filled out by the nominator or the self-nominee) a current CV, and one letter of recommendation written by professionals in the field who can speak to the nominee's background, contributions, and leadership.
Nominations Due: August 31, 2023
---
2019 Awardee: Joanna Regulska, Vice Provost and Dean – Global Affairs, University of California, Davis
The inaugural winner of the IIE SIO of the Year Award, Joanna Regulska has demonstrated exceptional leadership in the field of international education throughout more than three decades at multiple higher education institutions. She was the first Vice President for International and Global Affairs at Rutgers, The State University of New Jersey, and joined the University of California, Davis as its first Vice Provost and Associate Chancellor of Global Affairs in 2015. Throughout her career, Joanna has developed and led large-scale education projects that have transformed institutions, established new degree programs and collaborative partnerships, and substantially improved the deliver of internationally focused services to students, faculty, and staff.
2020 Awardee: Cheryl Matherly, Vice President/Vice Provost, International Affairs, Lehigh University
Cheryl Matherly was selected as the 2020 IIE SIO of the Year awardee in acknowledgement of her outstanding and sustained leadership at multiple institutions, including Rice University, the University of Tulsa, and, as of 2016, Lehigh University. Cheryl's progression of excellence in international education, her history of innovation and collaboration, and her leadership throughout the COVID-19 pandemic made her a singular candidate for the award. Her track record of leading the development and implementation of institution-wide strategic plans, and her proven ability to grow programs and partnerships is a model for SIOs worldwide.
2021 Awardee: Kalpen Trivedi, Vice Provost for Global Affairs, Director, International Programs Office, University of Massachusetts Amherst
Dr. Kalpen Trivedi, the 2021 IIE SIO of the Year Awardee, is recognized for his extraordinary internationalization efforts on campus; commitment to diversity, equity and inclusion; and his leadership throughout the COVID-19 pandemic. As the vice provost for global affairs, Trivedi is responsible for the leadership of campus-wide initiatives for global engagement, and he oversees the International Programs Office, encompassing education abroad, international student and scholar services, international partnerships and travel health and safety.
2022 Awardees:
Ahmad Ezzeddine, Vice President Academic Student Affairs and Global Engagement, Wayne State University
Ahamad Ezzedine, recipient of the the 2022 IIE SIO of the Year Award is a recognized changemaker and thought leader in the world, in the field, in his community of Detroit, MI, and on his campus. He is committed to inclusive excellence, global experiences for all, and prioritizes linking global learning with community engagement.
Thomas Buntru, Director of International Programs, Universidad de Monterrey
IIE is honored to award Thomas Buntru the 2022 SIO of the Year Award for his dedication and leadership in the internationalization and global engagement at Universidad de Monterrey, his focus on mentorship and life-long learning, and his significant, and innovative contributions to the field of international education. Thomas is a thought leader in global engagement, an outstanding scholar, passionate educator and an accomplished practitioner.
contact
Sylvia Jons
Lead, Higher Education Initiatives