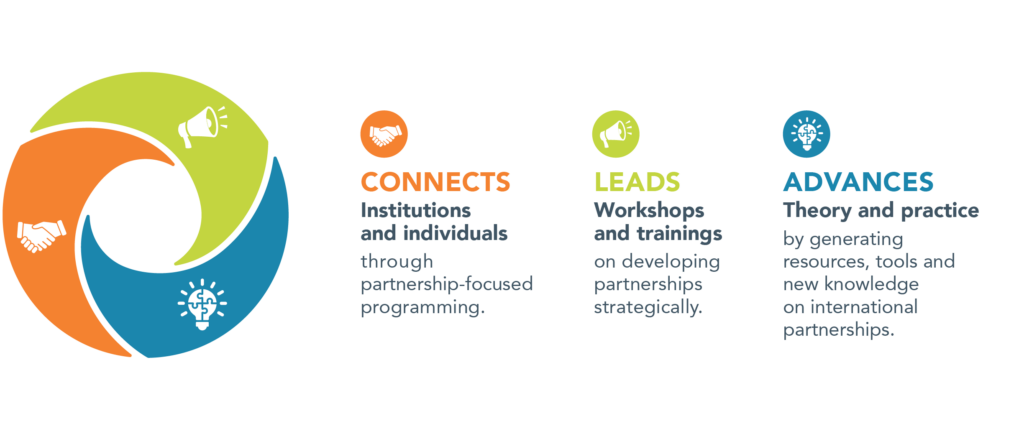 IIE Center for International Partnerships
Vision
Our vision is a world in which international academic partnerships play a primary, integral and strategic role in fostering a global higher education ecosystem.
Mission
We provide higher education institutions with the tools, resources, and connections needed to develop sustainable academic partnerships with counterparts around the world. In doing so, we strive to contribute to a more equitable and peaceful world.
International partnership creation is the future. It helps to foster trust in exploring new ways to sustain the collaboration. IIE's role in this effort is fundamental.

Vanita Misquita, Senior Director of International Partnerships and Global Affairs, Illinois Institute of Technology
---
What We Do
IIE's Center for International Partnerships (CIP) offers programs, trainings, and resources designed to increase and strengthen international academic partnerships around the world. We support higher education institutions, ministries, and other organizations in achieving broader internationalization goals through the power of partnership. We do this primarily through partnership-focused programming, workshops and trainings, and resources.
The Center acts as a convener that brings together interested parties through partnership-focused programming. Our flagship International Academic Partnership Program (IAPP) has connected over 350 individuals with potential partners in 13 focus countries, including Cuba, China, Brazil, Greece, and India, among others.
Examples Include:
Tailored partnership programs
Study tours
The Center develops tailored trainings and workshops for individuals, institutions, higher education systems, and other relevant audiences on partnership development, partnership strategy, internationalization, and a variety of other topics.
Recent Examples Include:
Developing an International Partnership Strategy, Association of International Education Administrators annual meeting pre-conference workshop (2015 – Present)
Poland & U.S.: Creating Successful Higher Education Cooperation (2021)
Enhancing International Linkages in Higher Education, Palestine (2019)
Increasing U.S. – UK Partnerships, London (2019)
IIE Centennial Summit Pre-conference Workshop on Partnerships (2019)
Sudanese-American Collaboration Forum on: Higher Education and Scientific Research (2018)
Internationalizing Kazakhstani Universities (2018)
Opening Doors for Greater Student Mobility & Academic Exchange between the U.S. and Ecuador (2018)
The Evolving Meaning of Internationalization in Higher Education, Croatia (2017)
Developing U.S.-Vietnam Partnerships (2016)
Embracing a Global Campus: Student Mobility and International Partnerships, Philippines (2016)
Turkish-American University Partnership Workshop
As thought leaders in the academic partnership space, the Center generates resources, tools, and new knowledge on international strategic partnerships.
8 Stages of Developing Partnerships
Global Perspectives on Strategic International Partnerships
IAPP Greece Briefing Paper
Impact to Date
350+
U.S. college & university participants in IIE's flagship partnership program, IAPP
13
IAPP focus countries, including Brazil, China, Cuba, Greece, Norway, and Vietnam
12+
publications including Global Perspectives on Strategic International Partnerships
CONTACT
Sylvia Jons
Lead, Higher Education Initiatives