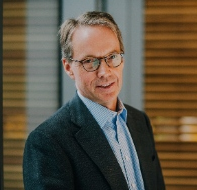 Hartley R. Rogers
Chairman, Hamilton Lane
Hartley R. Rogers is the Chairman of Hamilton Lane. As such, he plays significant roles in the Firm's investing and client relationship activities, as well as in its strategic and organizational development. He is a member of various Investment Committees of the Firm and is the Chairman of the Board of Directors.
Founded in 1991, Hamilton Lane is a private markets asset management firm. With over $480 billion under management and advisement, Hamilton Lane is the largest allocator of capital to private equity funds in the world and is a significant player in the private markets secondary and co-investment arenas. A publicly-traded firm (NASDAQ: HLNE), Hamilton Lane has ~400 employees based in 16 offices worldwide.
Hartley was formerly a Managing Director in the private equity fund management areas at Morgan Stanley and at Credit Suisse.
Hartley lives in the New York area with his wife, Amy Falls, and their three children. He is the Chairman of the Advisory Board of HarvardX, the on-line learning initiative of Harvard University. He is a Trustee and the Treasurer of the Institute of International Education, which manages the Fulbright and Gilman Scholar programs on behalf of the U.S. Department of State, among other activities. He is a graduate of Harvard College and Harvard Business School.