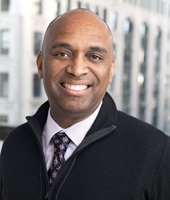 Dr. Dwight A. McBride
President & University Professor, The New School
Dr. Dwight A. McBride is President of The New School. He is an accomplished academic leader, educator, and scholar with nearly three decades in higher education. He was Provost and Executive Vice President for Academic Affairs at Emory University, where he was also Asa Griggs Candler Professor of African American Studies, Distinguished Affiliated Professor of English, and Associated Faculty in Women's, Gender, and Sexuality Studies. He was Northwestern University's Dean of The Graduate School, Associate Provost for Graduate Education, and Daniel Hale Williams Professor of African American Studies, English, and Performance Studies. He was Dean of the College of Liberal Arts & Sciences at the University of Illinois at Chicago and was on the faculty at the University of Pittsburgh.
Dr. McBride has published several books and essays on connections between race theory, black studies, and identity politics including James Baldwin Now, Impossible Witnesses: Truth Abolitionism, and Slave Testimony, Black Like Us: A Century of Lesbian, Gay, and Bisexual African American Fiction, and A Melvin Dixon Critical Reader. His book Why I Hate Abercrombie and Fitch: Essays on Race and Sexuality, a collection of essays offering contemporary cultural criticism, was nominated for the 2006 Lambda Literary Award and the Hurston-Wright Legacy Award. He is co-founder and co-editor of the James Baldwin Review and co-editor of The New Black Studies book series at the University of Illinois Press.
Dr. McBride is a founding co-director, with Dr. Earl Lewis, of the Academic Leadership Institute, a partnership between the University of Michigan and The New School that supports the development of academic leaders into higher education leadership roles who are committed to diversity and inclusion. Dr. McBride serves on the Board of Trustees of the College of Independent Colleges & Universities, the Institute for International Education, the Dan David Prize, and is a member of LGBTQ Presidents in Higher Education. He is on the Board of Directors of Con Edison, and is a member of the Council on Foreign Relations.
A South Carolina native, he received his AB from Princeton University and his MA and PhD from the University of California, Los Angeles.