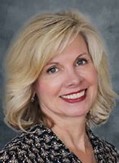 Joyce P. Hendricks
President & Chief Development Officer, Hackensack Meridian Health Foundation
Joyce Hendricks serves as the President and Chief Development Officer of the Hackensack Meridian Health Foundation. Joyce joined Hackensack Meridian Health in July, 2020. She is responsible for all of HMH's development efforts and for oversight of the HMH Foundation, the ten local foundations associated with constituent hospitals in the HMH network, and fundraising for the HMH School of Medicine and the HMH Center for Discovery & Innovation.
Prior to joining Hackensack Meridian Health, Hendricks served as the first chief philanthropy officer of the Institute of International Education (IIE) in New York where she was responsible for raising more than $50 million for IIE's 2019 centennial, as well as for building the team responsible for ongoing donor cultivation, solicitation, and stewardship.
Prior to her time at IIE, she had leadership roles with the Rutgers University Foundation and Johnson & Johnson. At Rutgers, her Alma Mater where she has served on its board of trustees, Hendricks was vice president of development and led teams that helped the university raise more funds than ever before as part of the $1 billion "Our Rutgers; Our Future" capital campaign. While at Johnson & Johnson, she managed corporate contributions and community relations, a $120 million annual program that included J&J's NJ hospital giving, and J&J's Community Healthcare Program in partnership with the Johns Hopkins Bloomberg School of Public Health. Joyce also has served as a gubernatorial appointee to the NJ Council for the Humanities.