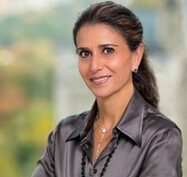 Laya Khadjavi
Former Chief Operating Officer and Head of Strategy and Business Development, ICE Canyon LLC
Laya Khadjavi is Global Head of Business Development and Client Relations at Menai Financial Group, a global financial institution focused on digital assets. Laya is Founder-President of LKH Consulting LLC, providing advisory services to a variety of institutions, including fintech and blockchain technology companies and investment management firms. She is a board member of GoldenTree ABS Management LLC since 2017. From 2012 to 2016, Laya was COO, Head of Strategy and Business Development at ICE Canyon, a global investment management firm specializing in Emerging Markets. Prior to ICE Canyon, Laya was Managing Director at Morgan Stanley where, during her 23-year tenure, she held a succession of senior management positions within the Firm's Institutional Securities Group and Global Wealth Management. Laya began her career as a financial analyst at Salomon Brothers.
Laya holds a BS in Applied Mathematics-Economics and a BA in French Literature from Brown University; she received her MBA from Columbia University. She is a member of Phi Beta Kappa and Beta Gamma Sigma honor societies.
In addition to serving on IIE's Board of Trustees, Laya is Co-Chair of Brown's Women's Leadership Council (WLC) and a member of Brown's Center for Middle East Studies' Advisory Council. Laya also serves on the Iranian American Women Foundation's Board of Advisors and is a member of the Metropolitan Museum of Art's Ancient Near East Art Department's Visiting Committee. In 2008, Laya received The Ellis Island Medal of Honor Award.