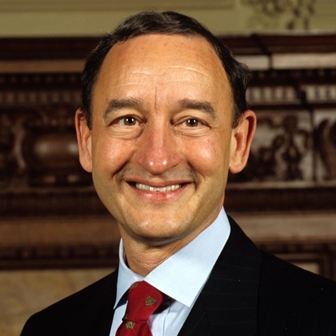 Mark S. Wrighton
President, the george washington university
Dr. Mark S. Wrighton was elected President of the George Washington University in Washington, DC, on January 1, 2022. He is currently on sabbatical from Washington University in St. Louis where he serves as the James and Mary Wertsch Distinguished University Professor, Professor of Chemistry, and Chancellor Emeritus.
For almost 24 years (July 1995-May 2019), Wrighton served as the 14th Chancellor and chief executive officer of Washington University in St. Louis. During his tenure, he made unprecedented progress in international reputation, campus improvements, resource development, and curriculum.
Wrighton served as a presidential appointee to the National Science Board, (2000-06), which is the science policy advisor to the President and Congress and is the primary advisory board of the National Science Foundation. He is a past chair of the Business-Higher Education Forum and the Association of American Universities.
Wrighton has received many awards for his research and scholarly writing, including the distinguished MacArthur Prize. He is the author of over 300 articles in professional and scholarly journals, is the holder of 16 patents, and co-author of a book, Organometallic Photochemistry. His research interests are in the areas of transition metal catalysis, photochemistry, surface chemistry, molecular electronics, and in photoprocesses at electrodes.
He is a fellow of the American Academy of Arts and Sciences and of the American Association for the Advancement of Science and a member of the American Philosophical Society. Active in public and professional affairs, he has served on numerous governmental panels and has been a consultant to industry. He is an active member of numerous professional organizations and serves as a director on the boards of national companies and St. Louis organizations.
From 1990 until 1995, he served as provost and chief academic officer at the Massachusetts Institute of Technology. A member of the MIT faculty from 1972 until 1995, Wrighton became a full professor of chemistry in 1977. He was named Frederick G. Keyes Professor of Chemistry in 1981 and became head of the Chemistry Department in 1987. In 1989 he was named the first holder of the Ciba-Geigy Professorship.
Wrighton received his B.S. degree with honors in chemistry from Florida State University in 1969 and his Ph.D. in chemistry from the California Institute of Technology in 1972.